Oakland Administration strengthens international relations with Chinese universities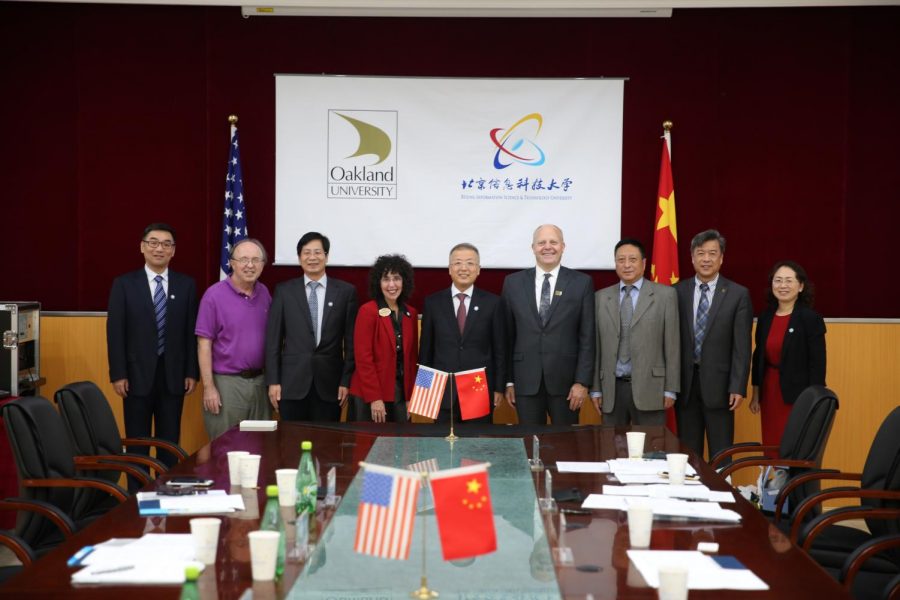 While Oakland University is already a household name in southeast Michigan, leaders from the School of Engineering and Computer Science traveled to China to help make OU a world-renowned university.
Oakland University President Ora Hirsch Pescovitz, Dean of OU's School of Engineering and Computer Science (SECS) Louay Chamra, and Mechanical Engineering Professors Gary Barber and Lianxiang Yang all went on the week-long trip to China to meet with faculty and students at partner universities.
"I was very impressed by the students we met at both the Beijing Information Science and Technology University (BISTU) and at Changchun University of Technology (CCUT)," Pescovitz said. "In many ways, they reminded me of students I have been fortunate to get to know here at Oakland. They all shared that same determination and drive and passion that I see from the students on our campus."'
While at BITSU and CCUT, the group would meet with various administrators for the universities as well as field questions from prospective students, in hope that they would enter the two plus two program.
"Our cooperation with China started a long time ago, about 10 years ago," Chamra said. "But then in 2010, we established the two plus two program with the two main Chinese universities, BITSU and CCUT. The students do two years in China and then they do their last two years at Oakland University."
There are 134 mechanical engineering and 110 industrial engineering students enrolled in the cohort, taking English classes in China. In return, engineering professors at Oakland will go to China to teach summer courses.
"We do academic lectures more in the summertime," Barber said. "We will typically give one or two research lectures as well to help encourage student flow back and forth but also research opportunities. We have research we've done together and papers published together."
Despite having 244 students in the program, only around 10 to 15 percent will come to Oakland due to the English requirement.
"Not every student comes to OU," Yang said. "Only about 10-15 percent that can pass the Test of English as a Foreign Language (TOEFL) will come to Oakland. If they can't pass the TOEFL, they stay in China to finish their degree."
Two years ago, industrial engineering was added to the program, which had not been originally offered when the program began in 2010.
Of the 300 students in the program, Oakland University has about 60 students enrolled.
"The reason we do this is not because of tuition money," Chamra said. "I think it is really important to have international students at Oakland University. A lot of our students work part-time and cannot travel overseas. We bring the international community to them, and we all benefit from it."
Pescovitz also shared her desire for diversity, which she hopes will increase from the annual trips to China.
"I also shared with the Chinese university leaders my vision, and our mission, to increase diversity on Oakland's campus," Pescovitz said. "Knowing that we all benefit when we share a learning environment that offers a cross-cultural exchange. After all, we are a global society today and our students will be interacting with people from around the world during their careers."