Greek Council elects its first African American president and vice president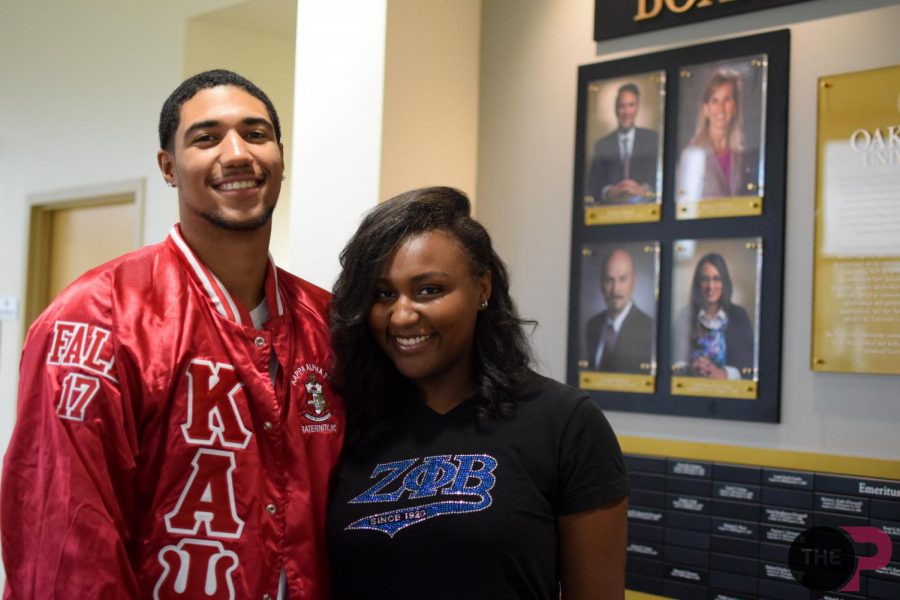 Greek life. It's always been one of the many things that made college so appealing to some people. Sororities and fraternities have always been a huge factor into deciding whether or not a student attends a university.
Oakland University has a total of 17 fraternities and sororities on campus, each with its own ideals and values. Among those 17 greek organizations, nine belong to the National Pan-Hellenic Council (NPHC), a group of historically African American, international Greek organizations. These nine organizations—often referred to as the Divine Nine—consist of: Delta Sigma Theta Sorority, Inc., Kappa Alpha Psi Fraternity, Inc., Omega Psi Phi Fraternity, Inc., Zeta Phi Beta Sorority, Inc., Phi Beta Sigma Fraternity, Inc., Sigma Gamma Rho Sorority, Inc., Alpha Phi Alpha Fraternity, Inc., Iota Phi Theta Fraternity, Inc. and Alpha Kappa Alpha Sorority, Inc.
This year, Oakland University's Greek Council has elected its first African American president and vice president, Ron Brown and Kiera Parkman, respectively.
Greek Council is the council that houses all of the Greek organizations on campus including the multicultural organizations, the NPHC, National Panhellenic Conference (NPC) and Interfraternity Council (IFC).
"We all come together and have meetings about how to improve Greek life on campus, how to talk to the Greek advisors [and] what events would we like to do as a group," Parkman said. "So instead of having separate events we can all come together and… show all of the philanthropy and events we do together."
It is no surprise that it is 2018 and Greek Council is just now electing a black man and woman to lead the council. OU is a predominantly white institution with 75.8 percent of the student population identifying as Caucasian and 8.4 percent identifying as African American in fall 2017.
Being the first black president of Greek Council is "beautifully overwhelming," according to Brown.
"When you think about it, being the first black anything is like, oh my gosh that's history," he said. "Even something as small as president of Greek Council on campus has meaning. There's still a lot of pressure and obligation that comes with it, but we'll welcome it."
Parkman and Brown have both had an interest in Greek life since before coming to college. Parkman grew up in what she calls "Greekdom" because her mother is a member of Zeta Phi Beta Sorority, Inc. and she knew she wanted to be a Zeta as well.
Brown, on the other hand, didn't have a clue about what it meant to be Greek.
"Honestly, before I came to Oakland I didn't know anything about Greek life besides what I've seen in 'American Pie,'" Brown said. "But deep down I knew I was interested in Greek life and exploring it."
One of the first people Brown met on campus was a member of Omega Psi Phi Fraternity, Inc. and he introduced Brown to Oakland's Greek community. He eventually found his place with Kappa Alpha Psi Fraternity, Inc.
As members of Greek Council, Brown and Parkman would like to get the Greek organizations more involved on campus.
"My goal so far this year is to really take Greek life to the next level," Brown said. "A lot of people don't know that there is a Greek Council so this year we're working on throwing more events… I believe the main goal behind recognition is also inclusion."
Coming into his position, Brown feels that being president of Greek Council is "a stepping stone to where he wants to be."
"We go to a PWI, and a lot of times we (African Americans) have to deal with the underlying feeling of just not being welcomed," he said. "So when you go to an organization like Greek Council where it's majority white you still kind of get the sense of, 'I don't really know my role here, I don't know if I belong or if I'm even accepted.' But to go from not knowing if you're accepted to, 'Now I lead this organization. Now they look up to me and they trust me,' it's just like whoa, that really just happened. I love it though. It's an amazing opportunity."