The 'Antiques Roadshow' comes to town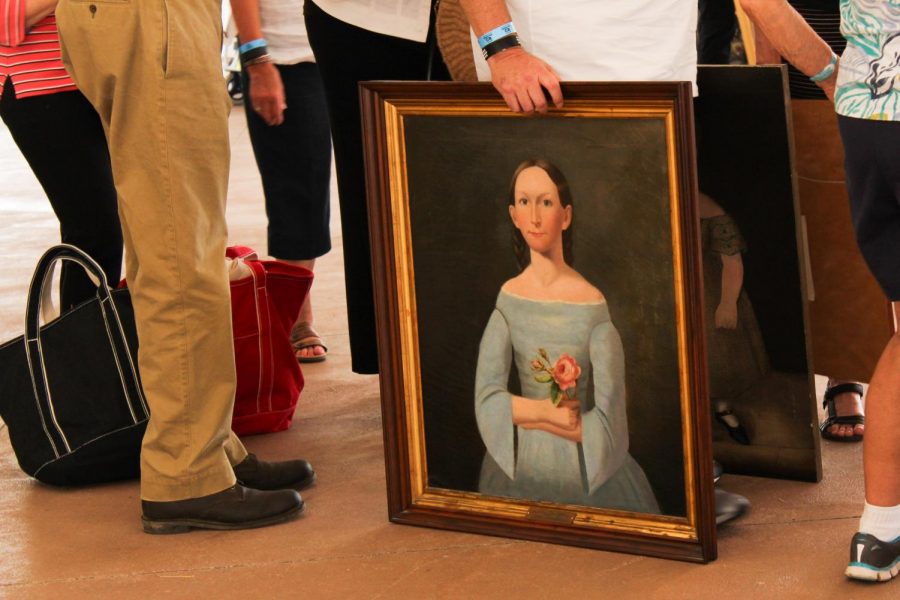 Despite the sweltering 86 degree heat people from all over the country gathered at Meadow Brook Hall for a chance to be featured on PBS's hit television show "Antiques Roadshow."
"Antiques Roadshow" first aired in 1996 in a Concord, Mass. armory. Since then, the show has done over 1.4 million appraisals. This is the show's first time visiting Rochester, but its fourth time in Michigan. It visited Southfield in 1996 for season one, Grand Rapids in 2008 for season 13 and Detroit in 2013 for season 18.
For the show's Rochester event they gave out 1,850 pairs of tickets so 3,700 people could attend the event. They received 19,772 ticket applications for the event which is the highest of the 2018 tour. If the item is of interest for the show's producers, they are invited to come to the event and get their item appraised.
"Antiques Roadshow" works with about 150 appraisers and around 65 were in Rochester covering more than 20 item categories. All of the appraisers are volunteers and are not paid for appraising items.
Andrew Dipper has been an appraiser for about 45 years. He owns Dipper Restorations in Minneapolis, Minn. where he and his wife restore and make violins. At the event, he appraised more than 20 violins, one of which was worth $30,000.
"There was a nice violin that came with a story behind it," Dipper said. "It was found in Germany just after the second world war and found its way here. Now the family is wondering what to do with it because they don't have anybody left to play it."
Dipper has been to 20 antique shows over the past 15 years. He can tell how old a violin is by looking at its natural wear and tear.
"It's like looking at somebody's face and you know how old they are by the wrinkles, same with a violin," he said. "You kind of look at it and every mark on the violin is something that happened to it if it's real."
However, there are always fakes at any appraisal event.
"If it's fake, you start looking at the marks and go 'How come that mark is there?' Doesn't mean anything, but for instance when somebody in the military back in the 1850s played a violin they had brocade on the uniforms and it scratches off the varnish in a particular way. Whereas someone who makes that wear artificially it doesn't have the same kind of look."
When an item of interest is presented to an appraiser, they get in contact with a producer who will ultimately decide if the item will be featured on the show or not. Once the appraiser meets with a producer they must pitch the item and explain why they think the item should be featured on the show.
If the producer decides to tape an object, the guest and their object is escorted to the green room where the guest will not have contact with the appraiser again until the item is taped. "Antiques Roadshow" holds off on providing any additional information to the guest until the cameras are rolling in order to catch a genuine reaction.
One event attendee Barb, whose last name will not be provided to protect her privacy, brought her great-aunt's brooch from the 1930s that she inherited from her mother. The brooch is high-end costume jewelry that was only made a short period of time because they ran out of diamonds at the time.
When Barb went to get her item appraised, she noticed that the appraiser was very interested in it. The appraiser told her that it was going to take a while and pulled out his phone to do research on the item. Another jewelry appraiser also looked at the back of the brooch with a loupe.
"Everybody around me is going, 'Whoa, you must have something really cool,'" Barb said. "Then the appraiser looked at it some more and he said, 'Can you wait around for about an hour?' and I say, 'I guess.'"
After an hour, the appraiser and a producer approached Barb and told her that she has a "very interesting and beautiful piece."
"The producer said, 'We're not going to put you on TV today,'" Barb said. "She said the brooch was worth about $800. So, yeah, it was pretty cool."
The episode filmed at Meadow Brook Hall will be broadcast nationally on PBS in 2019 for "Antiques Roadshow's" 23rd season. The schedule will be announced this fall on the show's website, newsletter and social media accounts.