Professor lives the intersection of politics and science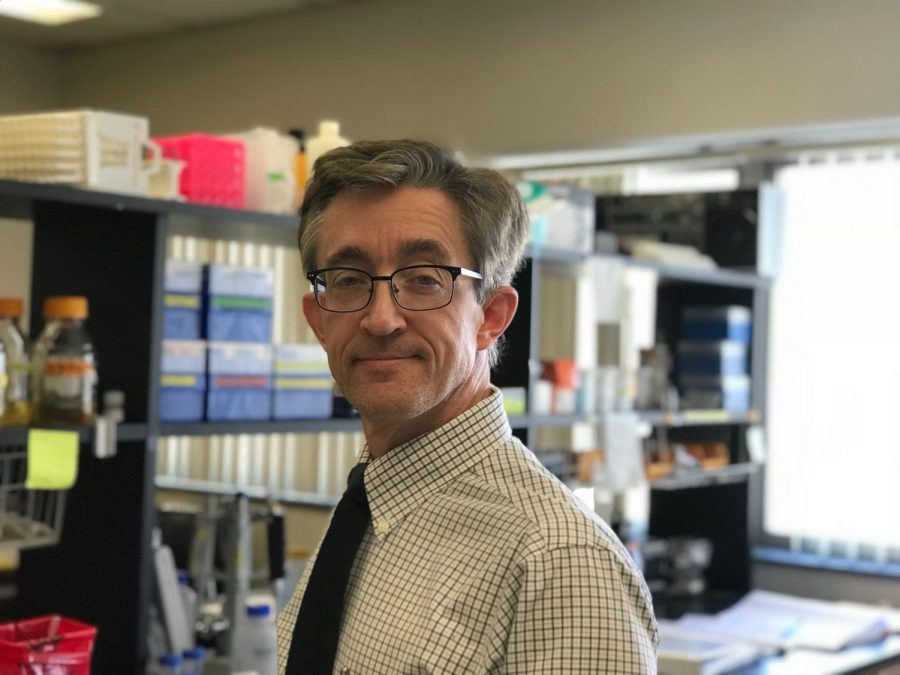 If someone decided politics and bioscience should never go together, they forgot to send the memo to Ken Mitton.
Mitton, who has been at Oakland University since 2001, has not only been a biochemist, professor and researcher but is the immediate past president of the OU Chapter of the American Association of University Professors (AAUP).
The AAUP is the union at OU that represents professors and faculty. The AAUP has only one paid employee, an executive director, with all other government members being volunteers.
OU's AAUP chapter has had to step up and carry out their mission over the years, which is something Mitton had to do several times over the eight years he has been a part of the chapter. During his voluntary role as president from 2015-2017, the first major event Mitton faced was having to manage the faculty reaction to the surprise creation and hiring of a COO by the Hynd Administration in 2015.
In his academic career, Mitton received his Ph.D. from the University of Western Ontario in 1995 and did postdoctoral training from 1995 to 2001 at schools and organizations such as Virginia Tech, University of Michigan and the National Institutes of Health.
Mitton chalked how he became a bioscientist up to serendipity. As an undergrad, Mitton discovered that he liked the chemistry and the biochemistry field, and he became interested in the retina when he studied the eye in postgraduate.
Mitton conducts research at the OU Eye Research Institute with interests in VEGF mechanisms which are related to hypertension and vascular disease, the effects of valproic acid and biotechnology.
As to how similar being a scientist and a union leader are, Mitton reported that they are more alike than some would expect.
"When you have a contract and you're both looking for things to stipulate and agree upon, you're bringing your arguments to the table, and arguments need facts," Mitton said. "You win more often if you have facts to back [arguments] up, and it just turns out that academics naturally do that every day."
According to Mitton, since most non-academics go into negotiations planning to win through bluffing, academics can call the bluffs "because people can't attack reality if you have some on your side."  

Along with the handling and use of facts, another way that academic and union work cross paths is through service to the university, mainly through serving on committees such as OU Senate subcommittees.
With contract negotiations coming up in 2020, the AAUP will be looking to address the pay rate, the lives of part-time professors and a merit pay system that was created for the 2015 contract that Mitton claims has not been run well.
As for Mitton, the future holds a mix of staying put and moving forward. He is planning on publishing what he has found so far from his VEGF research to obtain grants.