Department of Writing and Rhetoric renames teaching award to honor late professor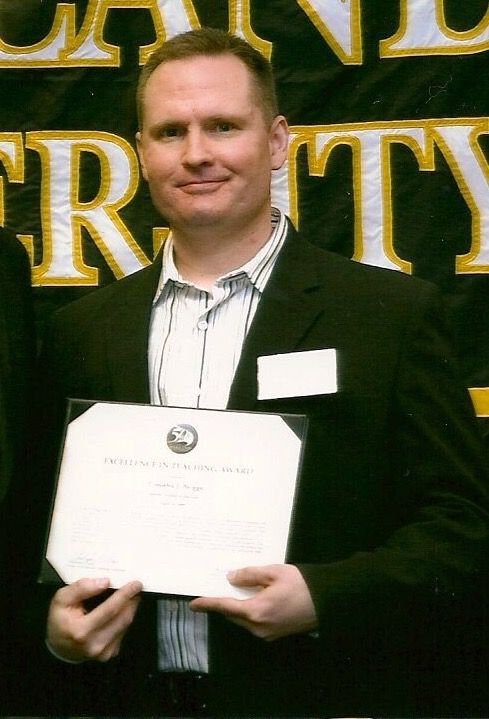 The Oakland University Department of Writing and Rhetoric has renamed its annual teaching award to commemorate the legacy of one of its late professors.
OU special lecturer Timothy J. Briggs died in August 2017 after losing a lengthy battle with depression. Briggs was a longtime member of the campus community, having received his Bachelor of Arts in English at OU and returning to teach in 1995, shortly after receiving a master's degree from Eastern Michigan University.
According to Associate Professor and Department Chair Lori Ostergaard, Briggs' work at OU extended outside of the classroom into other areas of the Writing and Rhetoric department.
"His work with digital media influenced some of the assignments Writing and Rhetoric faculty use in their classes," she said. "He also served as a technology support person in the department, offering workshops and one-on-one assistance for anyone who wanted to learn how to teach video composition in their classes."
Due to his commitment to his students and fellow educators, Briggs celebrated several notable accomplishments throughout his career, receiving the university's Excellence in Teaching award in 2007 and the nationally recognized Kairos Teaching Award in 2011. It was this dedication that inspired members of the OU Writing and Rhetoric department to rename their annual teaching award—now known as the Timothy J. Briggs Award for Teaching Excellence—in his honor.
"We wanted to rename the award because Timothy exemplifies what good teaching is all about," Ostergaard said. "He was always working to improve his teaching. He was an active, engaged and enthusiastic member of the department, but he was also involved in the larger field of writing studies, presenting at conferences, publishing his research, attending workshops and classes to learn new things and contributing to the discipline with, for example, his work with the Digital Archive of Literacy Narratives."
The award was presented to Special Lecturer Emily Francis during a luncheon at Meadow Brook Hall for the department's annual spring conference on April 30. Briggs' wife Cheryl, oldest son Kenton, sister Laura and father John were all in attendance.
"I can't think of a better way to remember him," said OU Special Lecturer Christina Hall, a former student, office mate and colleague of Briggs'. "Earning the teaching excellence award was already a great honor, but now that it is the Timothy Briggs Teaching Excellence Award, it's an even greater honor because we all know what a respected, dedicated, talented and well-loved instructor he was. Because the award is annual, we'll be able to honor and remember him every year."
In addition to the award, the Department of Writing and Rhetoric will be making donations to the Graham Health Center in Briggs' name. The decision felt appropriate because he was a "passionate advocate for his students," according to Ostergaard.
"He was so enthusiastic about teaching writing and researching innovative methods to use in the classroom," Hall said. "I was inspired by his relationship with his students as co-learners and try to always have that same environment in my classroom.
"He always made it clear that as an instructor, he wanted to not only teach, but learn alongside all of us."