Student empowered through the Marine Corps by other's discouragement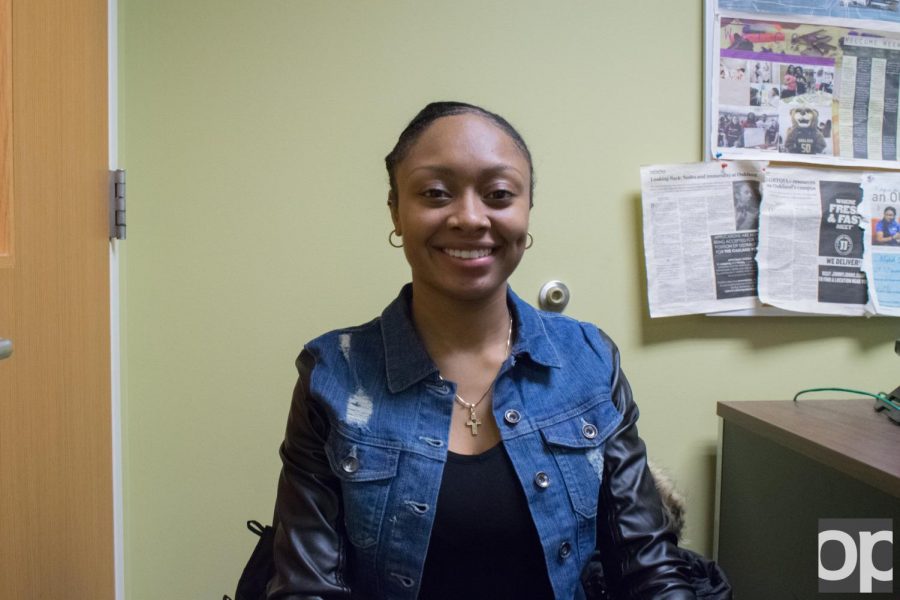 Isreala Greene knew since she saw her uncle in his Navy uniform at 12-years-old that she wanted to be in the military. The Oakland University sophomore joined on Dec. 2, 2012, directly out of high school, choosing the Marine Corps partly because she had heard it was the hardest branch and largely because everyone was telling her she couldn't do it.
"I'm the type of person that when I see something I want to do, I do it," Greene said.
Her first step was a three-month stay at boot camp where women and men were segregated and day-to-day life was described as misery.
"Your first month you eat when they tell you too, you go to the bathroom when they tell you too, you brush your teeth when they tell you too, you talk when they tell you too," Greene said. "So everything was discipline. 'Discipline is the instant obedience to all orders' that's what they taught us, it was imbedded in my brain."
She reported the goal was to break the recruits down so they could be built into something stronger. Her class began with 62 women and ended with about 40.
"I've never lost my voice in my life until I was in boot camp because the screaming, you couldn't scream loud enough," Greene said. "She'd say scream, you gotta scream. If you didn't scream loud enough, she'd say 'no scream louder' and you would scream until the point where your throat was sore, you feel like it's bleeding and you've lost your voice."
Since she was small, Greene had to eat two portions of food in boot camp, gaining 20 pounds to reach 120 pounds before moving on to Marine Combat Training (MCT) in South Carolina on March 10, 2013.
Days ran from  6 a.m. to 9 p.m. and were filled with activities such as hiking 21 miles with an 80 Ib. pack and night vision where she shot M16 rifles at night. Greene's favorite part of MCT, aside from collaborating with different people from all walks of life, was getting to throw a grenade.
"Some of them threw it in the box and they got body slammed because they [drill instructors] have to save you and make sure they get you out of the box," she said.
Next, Greene went to communications school in California from May to September of 2013 to learn how to be a telecommunication wireman, which is someone able to make a telephone out of only the correct wires, and graduated top of her class.
Her final stage was the fleet in North Carolina, the experience which Greene said determined whether she stayed in the military or not. While there, she was able to cross-train and learn how to build a radio, but ultimately found that too many obstacles stood in the way of her goals.
One of the biggest issues that informed her decision to leave was that she couldn't move around or go on deployments because she was so depended on there.
"For some reason I couldn't go because they needed good marines around the shop, I'll never forget them saying that," Greene said. "You could have the highest motivation but it will deteriorate you."
Greene is now pursuing a bachelor's in either accounting, inspired by "Wolf of Wall Street," or human resources and plans to move to Texas after spending time with her little siblings.
"Am I grateful of my experience in the Marine Corp? Of course," Greene said. "You learn so much and I made so many friends that I still talk to today. It helped me to be the person I am today, I can honestly say that."