Oakland research stretches abroad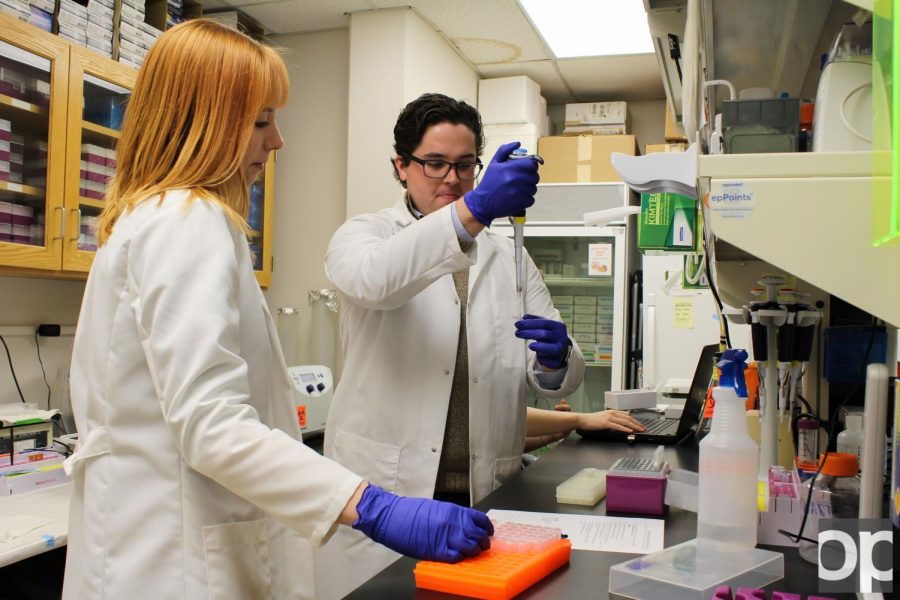 An Oakland University team of three, Assistant Professor of Biological Sciences Randal Westrick, Ph.D.; Ph.D. student Marisa Brake and undergraduate student Alex Johnston, traveled to Heidelberg, Germany for the Mammalian Genetics and Genomics: From Molecular Mechanisms to Translational Applications Conference hosted by European Molecular Biology Laboratory on Oct. 24 through Oct. 27.
"There's scientists from all over the world that come to it, and it's a place where you can showcase some of your research, specifically in the field of mammalian genetics," Johnston said. "There was from undergraduate to graduate to post doc to assistant associate professors that were in attendance at the conference."
Westrick has been attending the annual conference for over 10 years as it is one of the main conferences for mammalian genetics.
"It covers a broad range of topics [such as] genetic diseases, translating that to humans, cancer biology [and] computational biology, so there's a lot of different topics all focused on genetics," Brake said.
Around 150 people attended the conference. It featured many speaking events as well as poster presentations in which Johnston participated and won an award.
"It was a great experience and it was an honor to have received the award," he said. "The poster was actually about plasminogen activator inhibitor-1 [PAI-1], which is a protein that is essential in the fibrinolysis pathways, so the breaking down of blood clots."
Johnston reported the study produced the poster dealt with inbred mice and platelet PAI-1 levels as it reflects on cardiovascular health.
A trainee symposium occurred on the first day of the conference, allowing Brake to present her research done at OU.
Her study dealt similarly with blood clotting and the fact that the mix of two genes, Factor V Leiden and TFPI deficiency, cause the mice to die early from blood clots. Brake's team was successful in mutating DNA to fix this. However, they are not sure what has changed so the study revolves around finding the mutation that lowered blood clotting.
While in Germany, Westrick also gave a talk at the Technical University of Dresden.
"That was a basic overview of everything we do in the lab," he said. "I was invited by one of my colleagues to give a talk there and then we initiated a collaboration with some people there."
From networking to education, the trio brought back ideas to help in their research at Oakland.
"What I was seeing was some of the issues I was having with my project that this could be why," Brake said. "We're trying to look at it a different way now so we can hopefully make the genome better to analyze."
Looking toward the future, Brake is interested in going into an industry setting and working for a biotech company, while Johnston is looking to become a medical student.