The professor who likes to learn from the past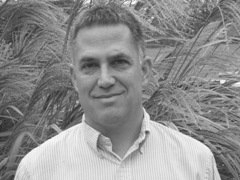 Hang on for a minute...we're trying to find some more stories you might like.
Professor Daniel Clark gets much more out of his job than a paycheck.
"I enjoy challenging students to be better thinkers and writers," said Clark, who teaches history. "After taking my class, I hope they will be able to think through problems from a variety of perspectives, while also being able to evaluate sources critically."
He grew up in Midland in the shadow of the Dow Chemical Co. during the Vietnam War era. Clark recalled a day when he was in elementary school during the height of the protests.
"Midland is dependent on Dow Chemical, while Dow Chemical held large government contracts to produce war materiel like napalm and Agent Orange," Clark said. "My dad drove me and my sister to elementary school one day, which happened to be the same day Dow Chemical was holding its stockholders' convention.
"When we got to the school, there were massive protests outside the front of the school. When I asked my dad about the protesters, he told me that the protesters were no good and that I shouldn't pay attention to them. My father worked for the Dow Chemical Co., so when he told me what he had he told me, this only stoked my curiosity about the issue."
Clark was a self described, wide-eyed youth, who rooted for all the Detroit based teams when he was growing up.
"As a kid I used to listen to the Detroit Tigers during the 1968 season on a transistor radio when I was supposed was to be asleep," he said. "When Ernie Harwell told me Gates Brown 'hit that ball a mile', I literally believed him."
After graduating high school, Clark attended Albion College. He received a bachelor's degree in history.
During his time at Albion, Clark spent a year studying abroad at the University of Sussex in England. He even got to travel to the U.S.S.R during the early '80s to visit his brother who was studying Leningrad at the time.
Following undergrad, Clark continued his education at Duke University, where he received a master's degree and a doctorate degree in history.
Although he has a number of outstanding degrees in the study of history, he originally was not on track to become a professor.
"I started out as a math major, while I also enjoyed biology," Clark said. "But I can't imagine teaching any of those subjects now."
During his time as a graduate student, he got into teaching. It kept him busy as he finished his dissertation.
After his time teaching as a graduate student, Clark taught part-time at the University of Michigan, Grand Valley State University, Eastern Michigan University, Wayne State University and eventually Oakland University.
Now, Clark gets to peak students' curiosity the way war protests got him thinking as a kid.
He doesn't have a specific favorite out of all of the classes he teaches, but says that as long as he has a solid core of students who want to think, he is fine whatever he is teaching.
"I think everyone wishes that everyone else would see the world as they do, but I like to challenge people to think hard about what they hold true, no matter where they stand," he said. "If you can defend your position with plausibility and engage contradictory evidence, you have my respect."