Opening the Doors to Larger than Life Landscapes: What it's like to Live Full Time in a Van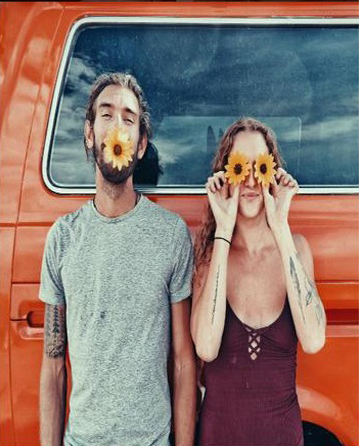 Hang on for a minute...we're trying to find some more stories you might like.
Brianna and Keith Madia are not typical college graduates. For two-thirds of the year, these east coast natives find themselves in their Ford E350 cargo van inhabiting some small portion of the 22.9 million acres of public land in Utah.
Traditionally, western culture coerces college alumni to find a successful career and begin chipping away at the tremendous iceberg of student loan debt, all while funding rent in a seedy downtown apartment.
Following their graduation, the couple was looking at putting a mortgage down on a house. According to Brianna, "we were doing that because we felt like we were supposed to, not because we wanted to." 
Just one week after hearing the daunting jargon of a mortgage broker and having their entire lives laid out before them in a series of paid installments, the Madias found their ticket in the opposite direction; a flame red van they named "Bertha."
The van was anything but new, nearing 200-thousand on the odometer. It was certainly no luxury RV with running water, a full-sized kitchen or one that slept eight of their closest friends. But in some way, withdrawing every last penny of their savings to purchase the ride came as a reprieve from the rigidity of a mortgage.
The Madias say they often receive harsh comments from older generations asserting that millennials are lazy. When it comes to living out of a van, critics either don't understand much of what it takes to live as a minimalist or are too scared to come to terms with it.
Aside from assuming they're full-blown vagabonds, running their van on vegetable oil and love, the Madias still both have full-time jobs. Keith is an adventure programming specialist and Brianna is a technical writer for a software firm.
Most often, the only company the Madias share when they are not working is one with the natural rock formations and of their loyal canines, Bucket and Dagwood.
In general, the van-dwelling community is growing, and with the emphasis of social media more young people are committing to a lifestyle of cutting back.
Tim Grant, a veteran tiny home owner native to Metro Detroit similarly encourages the reductionist lifestyle.
"Young people these days have plenty to deal with," Grant said. "If they can cut back by any means and feel that it makes them more free, it sure beats living with stress."
The Madias have already logged an impressive record of their adventures, and they have no plans of slowing down.
After living on a sailboat for six months during college and taking an extended stay in Southeast Asia, they now have their sights set on exploring more of the western states. Fortunately for the Madias, their lifted 4×4 cargo van doubles  their lodging and their locomotion.
"I dreamed of living in a baby blue VW bus since I was little after watching absurd amounts of Woodstock docs and footage," Brianna said.
Her statement is no doubt reminiscent of a bygone era restored to life.