Middle school students open Free Little Library outside Pawley Hall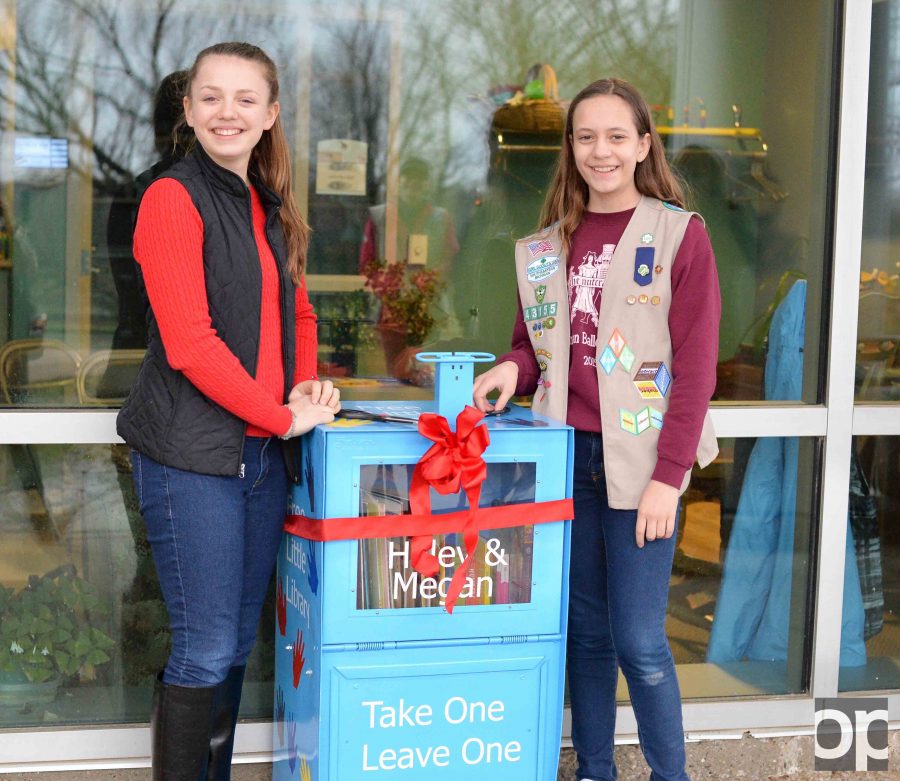 Haley Evans has always had a special place in her heart for literature.
When she was little, she produced a family newspaper with her mother. In third grade, she worked with The Hispanic Outreach Alliance to collect around 2,000 books for children whose first language wasn't English. As part of the Girl Scouts, she collected books to distribute to children at the food pantry.
Susan Evans, a lecturer at Oakland University, estimates her daughter has donated around 8,000 books over the course of her life so far, earning her an award from Rochester Area Youth Assistance.
Thursday, March 30 marked the ribbon-cutting ceremony for Haley Evans' newest project, a Little Free Library on OU's campus.
Working with fellow Girl Scout Megan MacKenzie to earn their silver awards, received when a scout completes more than 50 hours of systematic impact on the environment around her, the two middle schoolers implemented their little library in front of the Lowry Center for Early Childhood Education, which is part of Pawley Hall.
"It was quite nice because both Haley and Megan, when they were small, went to Lowry, and so it was kind of cool to see this full circle giving back to where they came from," Susan Evans said.
Little Free Libraries is a concept that is growing more popular. The idea is to decorate a box on a stand, fill it with books, and allow the community to take and leave those books at its leisure.
Donating books to the library is also welcome and encouraged.
"I saw it in a newspaper about people making them in Detroit to help the kids in Detroit Public Schools that don't have a lot of money for books," Haley Evans said.
Currently, Haley and Megan's Free Little Library is supplied with children's books, but the girls plan to implement more adult-oriented books around next month.
"I like the idea because I never got to read as much when I was a kid, and it really encourages reading, so hopefully kids can grow up and have a really good vocabulary and get more introduced to reading," MacKenzie said.
The Little Free Library will also have themes, featuring summer-themed books, holiday-themed books and back-to-school books at appropriate times.
There will also be a second location in Rochester Community Schools' Administration Building, which is expected to open in May 2017.
Organizations that have helped create the Little Free Library include the Oakland Press and Detroit Metro Times, which donated two newspaper boxes, and Nile Industrial Coatings, which donated paint services.
Those interested can keep up with Megan and Haley's Little Free Library on its Instagram page, at @hmfll43155.
Looking toward the future, Haley's aspirations include further work with literature for youth, and MacKenzie hopes to advocate for the safety of the community's bee population.
"I'm amazed at how industrious they are and how dedicated they've been," Susan Evans said.