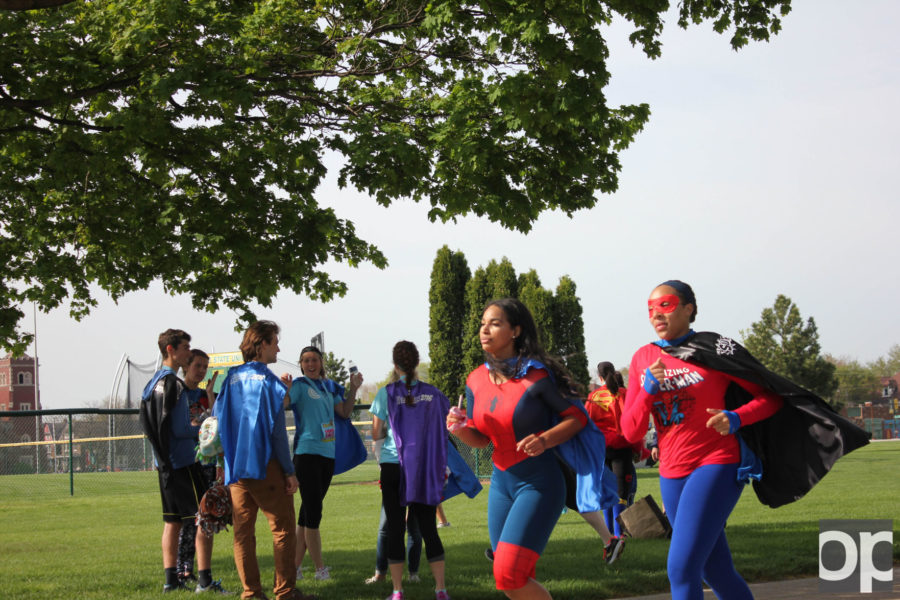 Fleece & Thank You's booth sat across from the T-shirt tent, which was down the sidewalk from the ice cream truck and moon bounce. Around these outposts, hundreds of superheroes walked, talked and danced.
Earlier, these masked vigilantes had crossed the finish line of the fittingly-named Super Run at Wayne State University. Some participants held — or rather, triumphantly raised — rolled-up fleece blankets. This was Nick Kristock's doing.
Kristock is an Oakland soccer alum (class of 2013) and this is the first time his charity, Fleece & Thank You, had sponsored the event. The Super Run partners with non-profits to help raise funds for these organizations. Fleece & Thank You provides colorful fleece blankets to kids hospitalized for an extended period of time.
The event was a success, Kristock said.
"I was really impressed with the turnout," he said. "We had about 20 Fleece & Thank You runners, and they were all super pumped to be there."
Kristock said it was a great time.
"The crowd that we had come out has been very supportive," Fleece & Thank You volunteer Bryce Goulah said. "They're very passionate people about our cause and about making a change in children's lives."
Fleece & Thank You has a pool of about 100 volunteers, Kristock said. They help run the events.
This is the first time Fleece & Thank You has gotten involved with the Super Run, and there are more times to come, namely Grand Rapids on Saturday, June 4 at 8 a.m. and Ann Arbor on Saturday, August 6 at 8 a.m. 
Fleece & Thank You is also joining forces Saturday, May 14, with the Children's Hospital of Michigan to provide blankets to the attendees of the hospital's princess/superhero party.
That same night, ten Fleece & Thank You volunteers will hand out blankets at the Evening of Dreams Prom put on by Wish Upon a Teen at the Hotel St. Regis in Detroit.
"It just feels incredible being around people that care," Goulah said. "You really get that emphasis of love being spread everywhere you go."
Fleece & Thank You allows donors and volunteers to send a personalized video message of inspiration to the children who receive these blankets. Katie Bandfield said volunteering with the organization makes her feel united with the community.
"It's such a unique way to be interconnected with the person who receives your blanket," Bandfield said. "You can be so close with someone who needs support."
"We're a face for people to use to go ahead and give back to the community," volunteer Morgan Garmo said. "So even though we're here supporting our cause and having people know about it, we really allow the community to go ahead and jump in."
Kristock said Fleece & Thank You's affiliations and events serve the main mission.
"This kid goes into the hospital, and their whole world becomes these four walls," he said. "We bring a blanket in from the outside and a video from the outside and for them it's like holy smokes, someone outside these four walls cares about what's happening inside these four walls. And it changes things for them. That's why we do it."