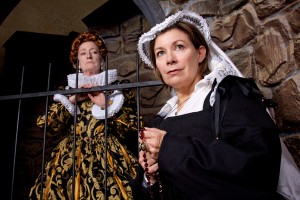 Beginning Feb. 8, Meadow Brook Theatre will be presenting Peter Oswald's version of Schiller's "Mary Stuart," a historical drama about the days surrounding the death of Mary Queen of Scots.
The production is a Michigan premiere.
The play takes place while Mary is imprisoned by Queen Elizabeth I for the murder of Elizabeth's cousin, and Mary's husband, Henry Stuart.
Elizabeth has also placed Mary in prison for a more personal reason: Mary has laid claim to the English throne.
Throughout the play, Mary hopes to meet with Elizabeth in order to beg for a pardon. In actuality, there is no proof that this meeting ever occurred.
Although the play is a drama, director of the play Travis Walter believes that there are definitely some comedic moments.
"There's some great humor throughout the show, which is nice because it lightens the mood here and there," Walter said. "And those in-between moments are what makes the drama."
The play runs through March 4. Ticket prices vary depending on date, however students can receive $10 tickets if purchased the day of the performance.
For more information visit www.mbtheatre.com
—-Contact campus editor Sarah Hunton via email at [email protected]