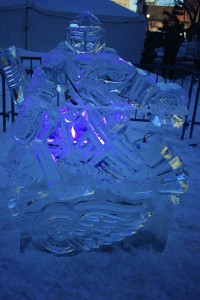 Metro Detroit may have missed out on the big winter storm that blew through the east last weekend, but the 2013 Motown Winter Blast helped bring winter to the area for all to enjoy.
The event, which started in 2005 to begin the countdown to SuperBowl XL in Detroit, is produced by Jonathan Witz & Associates.  A combination of activities centered around Campus Martius Park turned the downtown playground into a winter wonderland.
The family-friendly atmosphere showcased local food vendors, music acts and outdoor winter attractions made to give locals the winter vibe missing from the 2013 season.
New features this year included free skating at Campus Martius' ice rink and Hockey Haven in the D — a joint venture with the Detroit Red Wings and Olympia Entertainment. Hockey themed entertainment and interactive hockey games, including top shot, gave fans a chance to win prizes.
Also making their debut at the festival this year were the Girl Scouts of Southeastern Michigan, which debuted its Cookie Van, a mobile cookie-selling unit. They also gave attendees the chance to win Girl Scout cookies for a year.
Greektown Casino-Hotel hosted the Taste of Detroit, featuring a wide variety of food and drinks from local restaurants, eateries and caterers.
"I just had possibly the best cheeseburger I ever tasted and who knew it would come from a food truck," local attendee Dante' James said.
Food vendors included Greek dining from Santorini Estriatorio, classic Brazilian steakhouse experiences from Gaucho Brazilian SteakHouse, seafood dining from Detroit Seafood Market and Middle Eastern fare from Palm Palace.
Other outdoor activities included ice skating demonstrations with performances by the Detroit Skate Club, dog sledding,  snowshoeing, marshmallow roasting and an Ice Garden with sculptures of Detroit Red Wing players.
If patrons felt the need to warm up, there were plenty of places available. Inside entertainment venues called Comfort Zones, powered by Corrigan Propane, included music and tastes in addition to interactive exhibits from sponsors and media partners.
"As much as I work, I never get the chance to take the family up north to do some of the things that they offered here this year," local resident Jake Atwater said. "We drove a hour to head downtown here and it was our first time. The way it looks we might be visiting for years to come."
Sponsors for this year's event included Michigan Lottery, Quicken Loans, Blue Cross Blue Shield, General Motors Foundation, Flagstar Bank, Greektown Casino-Hotel, University of Phoenix, Meijer, Charter One, Metro PCS, Meridian Health Plan, Pepsi and DMC.
For more information and pictures from this year's Winter Blast visit www.winterblast.com
Contact Staff Reporter Allen Jordan at [email protected] or @aj1218 on Twitter.