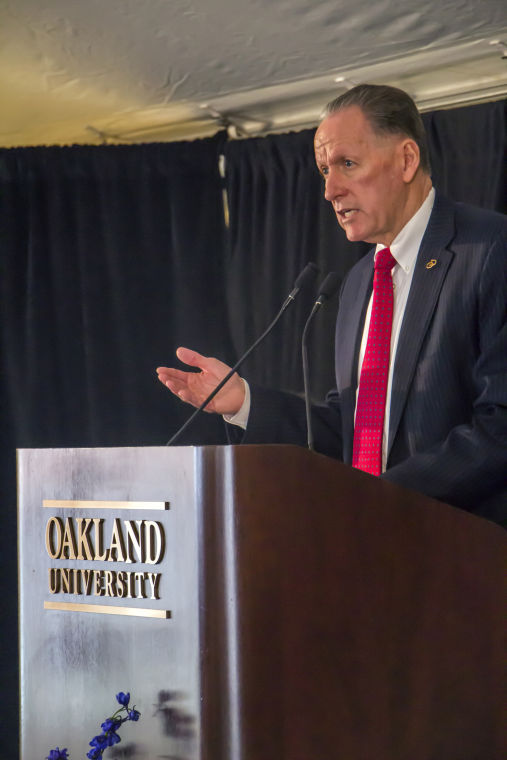 Oakland University President Gary Russi unexpectedly announced his retirement, June 12. To make things more surprising, Russi's wife and OU women's basketball coach, Beckie Francis, was fired within an hour of his shocking announcement. 
Within a week, Jenna Bachrouche, a former forward on OU's women's basketball team, told local media outlets that emotional abuse over her religion and weight was perpetrated by recently-ousted head coach Beckie Francis, (See related story on pg 11.)
Accounts appearing in The Oakland Press, Detroit Free Press and The Oakland Post report that Francis, who helped start the Fellowship of Christian Athletes on campus, tried to convert Bachrouche, a Muslim from a mixed- faith family, to Christianity.
Francis was placed on unpaid suspension May 30 following an internal review by OU's general counsel. She was fired June 12, an hour after her husband, University President Gary Russi, announced his own retirement.
A university spokesman said he could not confirm any connection between Francis' dismissal and Russi's retirement.
In a statement released June 21 by OU officials, the reason given for the termination of Francis was malfeasance, a term used to describe doing something dishonest, illegal or exceeding authority.
Director of Media Relations Ted Montgomery gave the following statement to The Post:
'At the conclusion of the 2011-12 season, a women's basketball student athlete requested a transfer release from Oakland University. OU granted her release and also supported her request for a waiver so that she could play immediately at another NCAA institution. At that time, she raised issues of non-secular conduct and behavior on the part of the women's basketball head coach. The Athletics Department, under the auspices and at the direction of the general counsel, immediately commenced an internal review that resulted in appropriate corrective action being taken.'
'Since that time, the university received no reports of continued non-secular conduct or behavior. Oakland University does not comment on specific details related to students, personnel matters or internal reviews.'
A previous report by Free Press writer Mick McCabe said the investigation of Francis was undertaken following player meetings with OU officials. Bachrouche denied being the source of the complaint according to The Oakland Press.
Bachrouche also addressed her problems to Oakland University athletics director, Tracy Huth.
"His hands are tied; he reports directly to the president," she told The Free Press. "He just apologized and said: 'Anything that I can do to help you get somewhere else.'"
Bachrouche, a former All-American honorable mention and All-State standout at North Farmington high, will now play at Western Michigan after she sat out the 2012-13 these when her appeal was denied by the NCAA, according to The Oakland Press.
She told the Free Press that Russi, who will be replaced by interim president Betty J. Youngblood on August 1, must have known about Francis' problems with her religion.
"I mean, I feel you'd have to be living under a rock not to know this," she said.
The Board voted to approve Youngblood's interim position at its meeting Wednesday.
Francis has been replaced on an interim basis by associate men's head coach Jeff Tungate.
Neither Francis nor Russi has publicly commented on Francis' firing.
The Post contacted numerous individuals, including trustees and Athletic Director Tracy Huth. They have not made any statements on the situation. Current and former basketball players also declined to comment on the firing.
Robbie Stewart, Associate Dean in the College of Arts and Sciences and the OU NCAA Faculty Athletics Representative, said privacy rules prevented him from commenting.