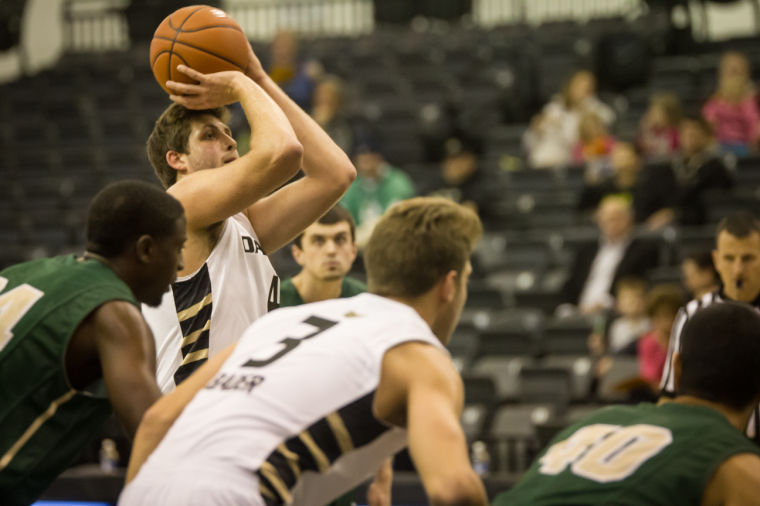 Oakland University men's basketball came out victorious 76-52 in their 2013-14 opener against Tiffin University Tuesday, Oct. 29. Head coach Greg Kampe was pleased with his team's opening night performance.
"I think this was a good day for us," Kampe said. "I think that having practiced for a month, getting a chance to play somebody else was good for us."
After starting out slow, OU gained their first lead at 8-6 and never looked back, going on a 21-6 run. 
The Golden Grizzlies went into the half leading 42-26, capped by a double-clutch, 3-point buzzer beater from sophomore forward Tommie McCune.
"I probably just got lucky," McCune said. "I actually thought Bader was going to shoot it, but he passed it and I just put it up."
It was his first game as a Grizzly, and he made it a memorable debut, leading the team with 22 points and seven rebounds.
Kampe is not certain on McCune's role for the upcoming season, who transferred from West Virginia and played high school basketball at Saginaw.
"I don't think we can think anything of Tommie," Kampe said. "It's his first game. He hasn't played in two years. He's a top 100 recruit. We've never had that before."
McCune spent last year with the team, but was unable to play. The NCAA requires transfers to sit out a year before they can play for their new school.
"I'm real comfortable," McCune said. "I got to know everyone last year, and we're like family here."
Senior guard Duke Mondy made a defensive stamp, gathering six steals, all coming in the first half.
OU star Travis Bader is on pace to break the NCAA all-time record of 457 3-point field goals set by J.J. Redick in 2006, and started the Grizzlies' scoring off by dropping his first "Bader-Bomb" of the year. 
He would cool off, however, finishing only two of six from behind the arc.
OU freshman guard Kahlil Fielder also made his first start in his debut with the Grizzlies, finishing with nine points and five assists.
"He's a quick player," Bader said. "He's somebody you have to guard, which is great for a guy like me who's always attracting a lot of pressure."
Men's basketball plays next Nov. 3 against Lake Superior State at 4 p.m. in the Athletics Center O'rena. 
OU's regular season begins Nov. 8 at North Carolina and will not return home until Nov. 30 against Rochester College.