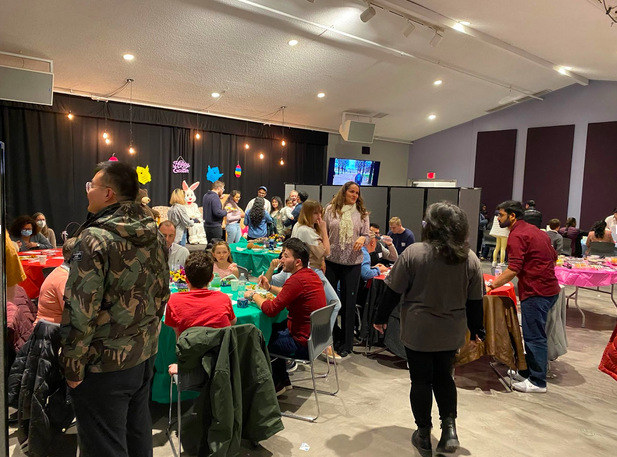 Rachel Yim
Americans share some of their national holidays with many other countries, Easter being one of them. As Easter Sunday is soon approaching, the CAIR (Creating American-International Relationships) program at Oakland University hosted its annual Easter event for the international students and their families at the Auburn Hills Christian Center on Saturday, April 9.
"It brought us together to share how each of us celebrates this holiday and how we have some common things we do as well as the different traditions," Petra Knoche, international adviser with the International Students and Scholars Office (ISSO), said.
The event included a variety of activities. From coloring eggs and decorating eggs, an Easter egg hunt, photo booth section, games for prizes and foods representing different countries, international students and their families were provided with great opportunities to socialize with other people and share their home countries' own traditions of celebrating Easter.
"Honestly, I miss the students and our in-person events," Knoche said. "I love to see their beautiful faces, I love meeting their friends, spouses and children. Seeing their smiles and interacting with them, being able to listen to them, getting them out of their dorms or apartments to interact with others and experience our culture here, helping them in any way I or our office can [makes] me happy. It has been rough the last two years as many appointments were virtual or people have their masks on, so I am super excited to get back to 'normal.'"
Boyun Kim, a South Korean international student in the Ph.D. program in the School of Education and Human Services at OU and a member of the CAIR program, was one of the attendees of the event. Spending her first year at OU during the COVID-19 pandemic, she said she's faced many difficulties in building relationships with other students at OU, especially those her age.
Joining the CAIR program and attending the events hosted by the program have helped her with socializing with others and provided her opportunities to enjoy college life.
"I simply received an email from the advisers, and that was how I first heard about this CAIR program," Kim said. "I think it's a great opportunity, especially because I'm not a local here. They host a lot of events, and they are so much fun."
Although coming from different backgrounds and cultures, the students from around the world were able to enjoy the day building new friendships as well as learning and sharing about other cultures' ways of celebrating Easter.
"It is adorable to see our students taking pictures with the Easter bunny or see them being competitive and getting as many eggs in the field at the egg hunt," Knoche said.
With the help of Beth Prueter, CAIR volunteer, and Alexa Lawlor from Connect the Nations and International Oasis, a non-profit organization that helps out international students, the event was successful, according to Knoche.
"We always look forward to getting more OU folks involved in our CAIR program, and anyone who is interested can email me," Knoche said. "To gain more information about this rewarding program, people can visit the ISSO website and sign up for the summer [program]."