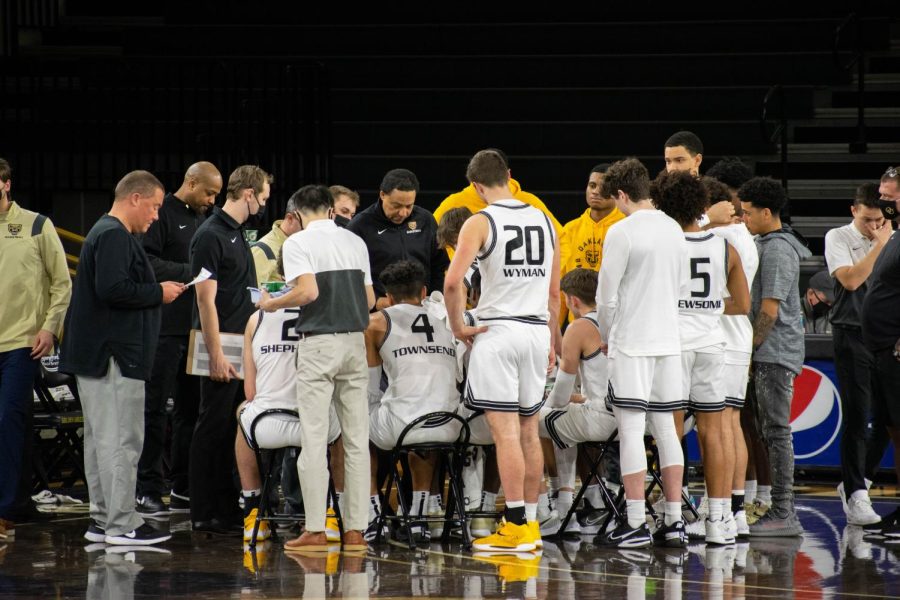 Maggie Willard
It is no secret that the Golden Grizzlies men's basketball team has been on a tear unlike any other this season. With a 15-5 record [8-1 in conference play] this season and plenty of room to improve upon that record, this is the best basketball that they have played since the 2016-2017 season. 
Identifying the reasoning behind this surprising jump in winning and the seemingly immediate jump in production was no easy task, but I have managed to narrow it down to what I believe are the most important reasons. 
Reason #1: Effort [Grade: A+]
Starting off with the first reason — the overall strength of the youth on this team. With ten of their active players on the roster being listed as freshmen — either due to them being true freshmen or using the extra year rule introduced because of COVID — the Golden Grizzlies and Head Coach Greg Kampe have had to rely on a lineup chock full of players who are making it through their first collegiate season.
Despite the supposed inexperience, the youth of the team have put in the work and leave everything out there on the court each night in order to bring home the wins. Two of the team's heaviest contributors — starting forwards Trey Townsend and Micah Parrish — have both played a combined 1,158 minutes over the course of this season [averaging around 38 and 34 minutes per game, respectively] and they have made every single minute count. With all the factors going into this, I think the team as a whole deserves an A+ for the collective effort shown.
Reason #2: Defensive Production [Grade: A]
The upside to this team being so young is the stamina and effort shown by the guys who want to desperately earn their play on the court, which brings me to my next reason: defensive production. This year, the Golden Grizzlies defense is on an entirely different level. With only 10 games left to go in the season, the team have halved their opponents' points scored in comparison to last year's defense. 
In the 2019-2020 season, the Golden Grizzlies allowed their opponents to score a combined 2,301 over 33 games. This year, with 20 games under their belt, they have only allowed 1,123 points combined over all of their games. Unless their opponents are able to score over 1,000 points in the next 10 or so games, then this year's defense will top last year's by a mile — and they get an A from me because of this. 
The contributions of our team's more experienced players [graduate student Jamal Cain along with junior Jalen Moore] have also been huge for the team's win columns, but I think that goes without saying. 
This year's Golden Grizzlies basketball team seems to have that "it" factor this year. The swagger and confidence with which they play, the emotion and the poise that they've shown numerous times on the court this season — all of it points to a team that looks primed and ready to make a deep run in this year's Horizon League tournament and maybe even further beyond.