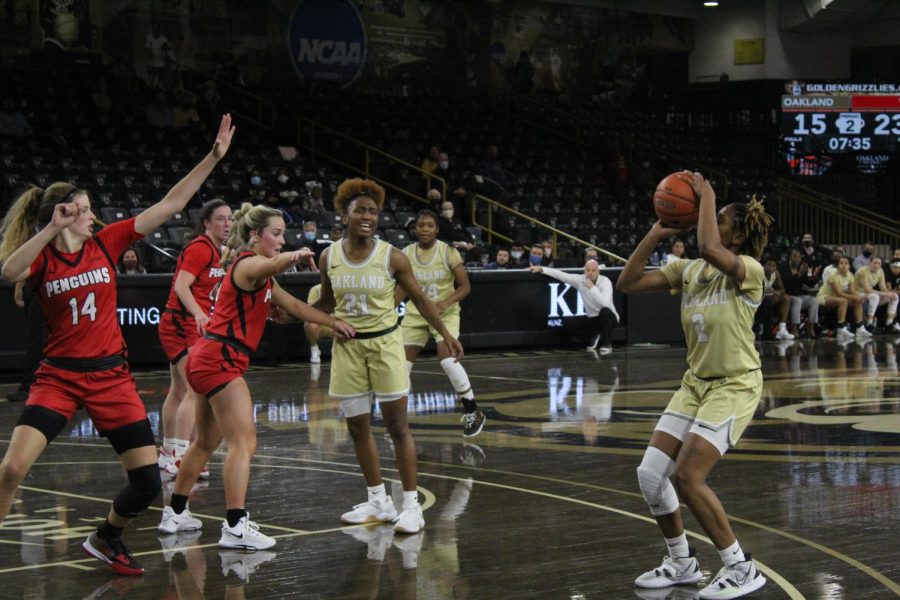 Anna Drumm
Golden Grizzlies women's basketball lost to the Youngstown State University Penguins 79-68 in their first Horizon League matchup of the season at the O'Rena on Thursday.
In the first quarter of play, Youngstown State opened up on a 10-3 run as Oakland started to make adjustments to overcome a poor shooting performance, shooting 5-17 from the field in the first, as well as 1-7 from behind the arc. Oakland couldn't keep up with Youngstown State's efficient 60% from the field and ended the first quarter down 23-13.
In the second quarter, Oakland's offensive woes continued as they shot 30% from the field and 50% from the line. The Golden Grizzlies played better defensively in the second as Youngstown State shot 6-12 from the field, but ultimately couldn't get enough done on the offensive end to cut into the lead, and went to halftime with the score 38-25, Youngstown State's favor.
The third quarter opened with an 11-3 run by Youngstown State, and throughout the third quarter kept a double digit lead, and by as much as 22 on a number of occasions, as they looked to put away the Golden Grizzlies. Oakland pulled themselves together offensively and shot 50% from the field in the third, but went 0-4 from three as Youngstown State shot 64% from the field, including 3-6 from three to keep the Golden Grizzlies 20 away. At the end of the third, Youngstown State led 61-41.
In the fourth quarter, Oakland was on a mission to make this a game, as they played their best basketball of the night. Oakland shot 45% from the field in the final period, including going 5-14 from beyond the arc on their way to a 27-point outburst to eat into Youngstown State's lead. In the end, Youngstown State scored 18 in the fourth quarter, ending any comeback hopes and winning the game 79-68. 
Despite the loss, Oakland showed their abilities in the second half, erupting for 43 points. Two Golden Grizzlies scored in double figures: senior guard Kahlaijah Dean and forward Kayla Luchenbach, who scored 18 and 10 respectively. Oakland also took better care of the basketball, ending with nine turnovers in comparison to Youngstown State's 21, as well as ending with 16 points off turnovers in transition. 
Even with their performances attributing to Oakland's fight, they couldn't overcome Youngstown State's scorching hot three point shooting four players in double figures, including a game high 24 from senior forward Lilly Ritz.
Oakland played their next opponent, the Horizon League rival Robert Morris University Colonials on Saturday, Nov. 20 at home before a road trip to face University of Michigan. Oakland looks to capitalize on its second half performance and will take this ferocity into the next game. The Golden Grizzlies are awake and looking to get back on track.