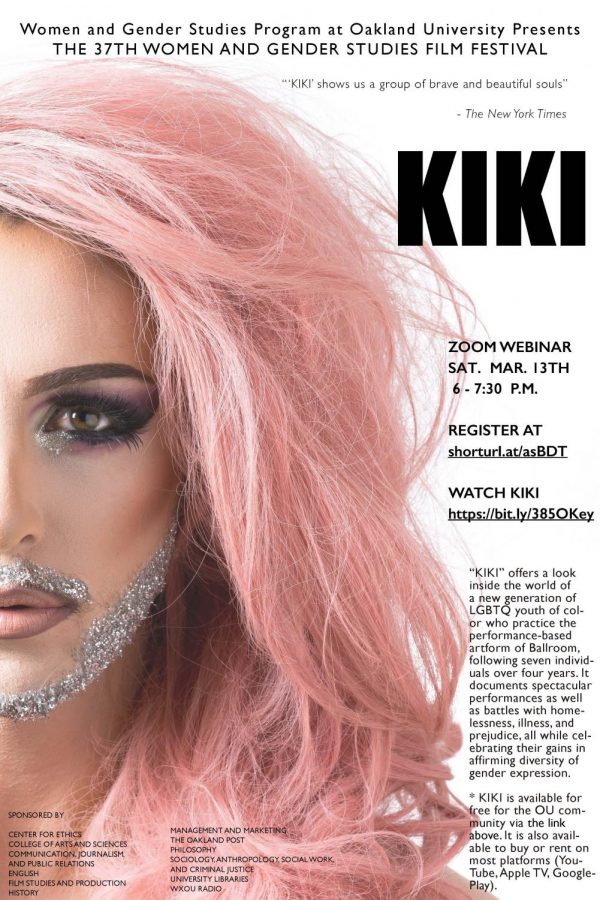 The Women and Gender Studies (WGS) program will host their 37th annual film festival virtually via Zoom on Saturday, March 13 from 6-7:30 p.m.
The film documentary 'KIKI' (2016) will be the topic of discussion. 
The film is about LGBTQIA+ and transgender youth involved in the ballroom scene — "a precursor to something like RuPaul Drag Race," WGS chairperson Erin Meyers said. 
'KIKI' follows seven characters from the Kiki community for four years, showing their struggles, battles, gains in political influence and gender expressions. 
This film was supposed to be shown at last year's event, but it was cancelled because of COVID-19. The WGS executive board continued the film festival tradition this year because of how long it has been running — it's the longest running public event on campus. 
"The film is so great and we [the WGS executive board] didn't want to lose the chance for people to see it," Meyers said. 
Attendees are asked to watch the film before coming to the Zoom for the discussion and panel at the set time. 
"We thought that having everyone sit and Zoom together to watch a film together wasn't a good way to host the festival," she said.
The film is easily accessible via Kresge Library, YouTube, Amazon Prime, Google Play and iTunes.  
While it's free to attend, it's required to register in advance. Click here to register. 
The panel during the Zoom will feature three local speakers, Jay Kaplan, Des Tibaudo and Bridget Butts. 
Kaplan is an attorney for ACLU of Michigan's LGBT Project. He has challenged undercover sting operations targeting gay men and has fought against the amendment that prohibits same-sex marriage. 
Tibaudo is an OU alumni and is a drag king — an artist who does masculine drag. They've been involved in the Gay-Straight Alliance (GSA) at OU and were a volunteer DJ at WXOU.  
Butts works at Ruth Ellis Center and is the coordinator for TransJustUs. She is the director of programs at the Trans Sistas of Color Project as well. 
All the members on the panel have experience with the issues covered in the film. They all will talk about what they do and how they individually relate to the topic.
The panelists will address questions from both Meyers and the audience. Meyers, who has a doctorate in communication, is a professor at OU and has her master's in Women and Gender Studies. She has also done research in feminist analysis. 
The audience will be muted and submit questions via chat to help with moderation. The goal was to make this festival as similar to previous festivals.
"We wanted to do it [virtual festival] as closely to the original set up as possible, and we didn't want to lose any aspect of the discussion," she said. 
The day before the event, those registered will get a Zoom link via email that will take them directly to the event the following day.