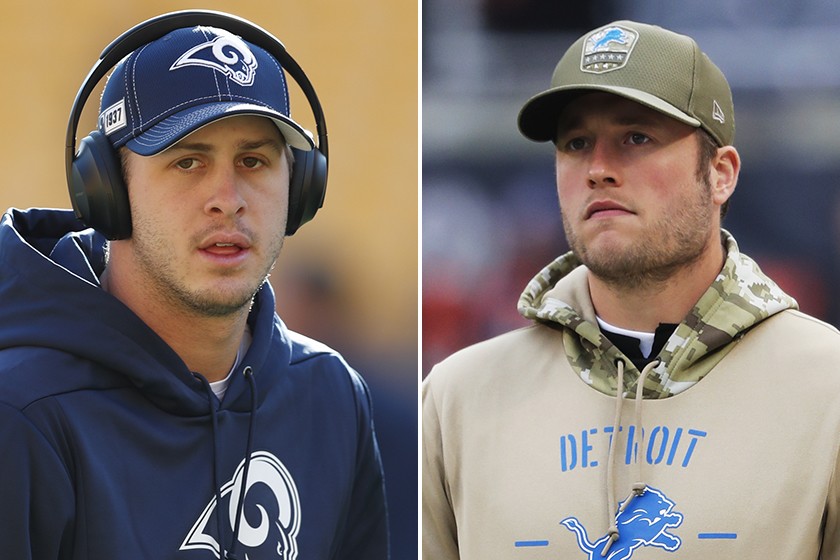 Photo Courtesy of the LA Times
The Detroit Lions have officially wasted yet another generational talent: Matthew Stafford.
After what feels like years of speculation, Tom Pelissero of NFL Network reported on Jan. 23 that quarterback Stafford and the Lions had agreed to mutually part ways. This comes after yet another disappointing season for the Lions, as they finished 5-11 with Stafford carrying the team yet again.
The Lions have now effectively wasted the careers of three generational talents in the last 25 years — Barry Sanders, Calvin Johnson and, now, Stafford.
On Saturday, Jan. 30, ESPN's Adam Schefter reported that the Lions have agreed to trade Stafford to the Los Angeles Rams for Rams' QB Jared Goff, two future first-round picks, and a third-round pick.
I was 11 years old when the Lions drafted Stafford No.1 overall out of Georgia in 2009. Every Sunday for the last 12 years, I've been able to watch him play football.
He was outstanding. In his first full season in 2011 he threw for over 5,000 yards, becoming just the fourth quarterback to ever accomplish that feat at the time.
In 2014, he went to his first and only Pro Bowl, and in 2019 he became the fastest player to reach 40,000 career passing yards. 
Stafford holds countless Lions franchise records. He's the greatest quarterback this franchise has ever had — and it's not even close.
When criticizing Stafford everyone loves to point to his record in the postseason (0-3). But think about this for a second: the fact that he even got the Lions into the playoffs should be impressive, especially considering what little help the organization has given him over the years.
He's never had a running game. He's had a defense once — in 2014 — one of the three years that Stafford has taken the Lions to the playoffs (along with 2011 and 2016).
The Lions have rarely given their star quarterback any help. Guys like Tom Brady, Aaron Rodgers, Patrick Mahomes, Ben Roethlisberger — they've all had help around them.
It's mind-boggling that some Lions fans still to this day have failed to realize what they had in Stafford. Now, all those fans are finally going to get their wish, but there isn't anyone the team can realistically acquire right now who would be better than No. 9, including new Lions QB Jared Goff.
I could be all hum-drum and doom-and-gloom for the rest of this column, but instead I want to highlight some of my personal favorite moments from Matthew Stafford's career as a Lion.
For the first one, we'll go back to Oct. 28, 2018 against the Seattle Seahawks. Stafford evades pressure and is able to find Marvin Jones Jr. in the end zone for a touchdown.
For the next one, I'm going to throw in virtually the entire 2016 season, where Stafford led the Lions to eight game-winning drives.
I'm sure most Lions fans will remember this next one very well: the game-winning drive against the Dallas Cowboys on Oct. 27, 2013. This culminated in one of the most iconic moments of Stafford's career: the fake spike play.
For my final entry, I'm going all the way back to Stafford's rookie season in 2009, and if you're a real fan, you already know what I'm talking about.
It was Nov. 22, 2009 against the Cleveland Browns, the last play of the game. Stafford evades multiple pressures and heaves it toward the end zone, taking a massive hit after he lets it go. He stays down, writhing in pain as a penalty is called on the Browns.
It was later revealed that he dislocated his shoulder. For most QBs, they're done for the game, if not the rest of the season.
But not Stafford. He stayed in and threw a game-winning touchdown pass.
Matthew Stafford is one of the toughest players to ever step foot on a football field. He played through several injuries throughout his career, including this past season.
I just have one last thing to say — thank you, Matthew. Thanks for bringing so much joy to me, this city and this fanbase.
Now go get a ring. You've earned it.