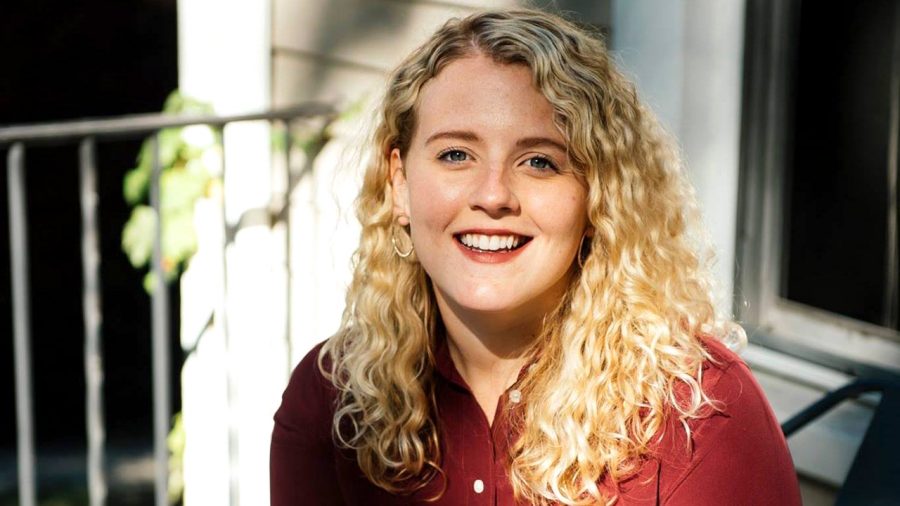 Photo Courtesy of Oakland University
Crain's Detroit Business started a Notable Women in Design title this year. Meaghan Barry, an Oakland University associate professor of graphic design, was selected as one of the inaugural recipients during Detroit's design month back in September.
"It's such an honor, honestly," Barry said. "The women on this list, I've admired many of them for years, so to even be considered as a peer to them is something that I take very seriously. It's a big accomplishment."
Crain's Detroit Business editors make their selections based on an individual's career accomplishments, track record of success in the field, contributions to their community and mentorship of others. 
Barry started at OU in the fall of 2013, when she was hired as assistant professor of graphic design. She received tenure in 2019, becoming an associate professor of graphic design. She now works in the department of art and art history and in the college of arts and sciences as the director of graphic design.
Barry is a partner, creative director and co-founder of Unsold Studio. Which works with a number of clients, both local and national, doing branding and customer experience design.
Barry's partner and fellow Unsold Studio co-founder — Lilian Crum, was also selected as Crain's Detroit Business' Notable Women in Design.
"Since her and I both got it, it felt like double the honor because Lilian is a big part of my design career," Barry said. "It was really nice for the two of us to be recognized individually, but also together."
Barry was invited to travel to Singapore last year for Singapore design week. She participated on the behalf of global peace building organization UNESCO (United Nations Education, Scientific and Cultural Organization). 
"I was invited as a representative of the city of Detroit to go to Singapore and be a delegate for UNESCO," Barry said. "I got to go meet with UNESCO creative city delegates from all around the world."
Barry has won multiple design awards, recently the design studio won a silver medal in branding from Indigo, which is a global award based in Amsterdam. Additionally, the studio has garnered honorable mentions in Graphis and two Detroit commerce design awards.
On campus, Barry has advocated for her students, developing the free laptop rental program for graphic design majors and minors at OU. This allows students to take home MacBooks so they can have access to Adobe Creative Cloud programs such as photoshop and illustrator.
"Before COVID[-19], our computer labs were full all the time," Barry said. "Graphic design is a really busy major and it was starting to become hard for students who would rely on the computer labs to get their homework done."
Barry also runs an elective course for students in the graphic design program that allows students to do graphic design work for nonprofits. This has provided students with the opportunities to do work for places throughout the Metro Detroit area.
"I really hope that no matter who's in my classroom, whether they end up having a career in design or not, I hope that they understand they have the ability to create change and make a positive impact in their communities," Barry said.