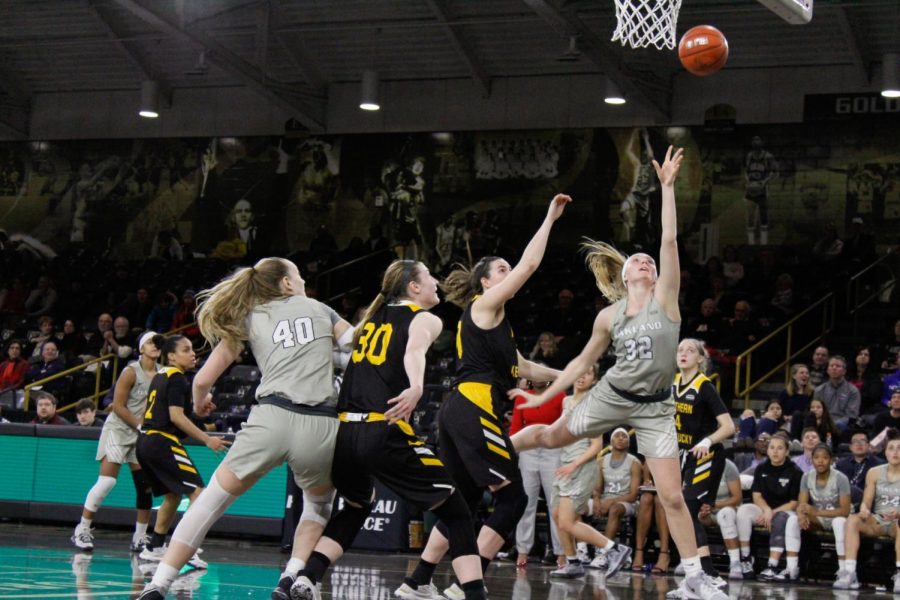 Sophie Hume
Against the Northern Kentucky (NKU) Norse in their final home game of the season, the Oakland University women's basketball team took the game down to the final seconds.
Kahlaijah Dean's final-second layup attempt was blocked, and the Norse won 67-65. They were led by Ally Niece, who scored 24 points on 9-18 shooting from the field.
The key to the game was rebounds, the Norse grabbed 38 rebounds to the Golden Grizzlies' 27. Oakland was able to create more turnovers than Northern Kentucky, and their bench outscored NKU's bench 37-12.
In their previous match-up on Jan. 23, Oakland lost 60-69 to NKU in BB&T Arena.
The Golden Grizzlies fell behind in the first half, trailing by eight after the first two quarters. They struggled to score early on, shooting 3-15 from the field in the first quarter, which only amounted to 10 points in the first. In the second, they shot better (46%), but were unable to gain ground.
NKU kept their lead around eight for the beginning of the third quarter, but with four minutes remaining in the quarter Oakland started to chip away at the lead.
After two free throws from Alona Blackwell, the deficit was cut to two points, bringing Oakland within one possession. Which tied the game for the first time since the first minute of the game.
Oakland then took a lead on a Blackwell free throw, which started a back-and-forth series that lasted until the end of the game.
Eventually, Oakland did lose to the No. 4 ranked Norse, putting them in eighth place in the final Horizon League standings. With a win, the Golden Grizzlies would have jumped to seventh in the standings, which would have resulted in a first-round game against Cleveland State University.
"I thought our team played hard and gave it everything they had," Acting Head Coach Ke'Sha Blanton told GrizzVision. "We got opportunities and got a shot at the end — it just didn't fall."
Blackwell and Luchenbach led the team in scoring with 13 points each, and Blackwell also led the team with five assists.
As a team, the Golden Grizzlies got to the line consistently, hitting 14 of their 17 total free throws. They shot 41% from the field and 33% from 3-point range.
Oakland will travel to Milwaukee on Tuesday, March 3 at 8 p.m. to face off against the Panthers in the first round of the Horizon League tournament.
"The fight they've had all season and what they've done … I couldn't be prouder," Blanton told GrizzVision.
In the two previous games against Milwaukee this season, the women's basketball team won at home and lost in Milwaukee. On Jan. 11, Oakland won 78-62 and on Friday, Feb. 14, they lost 67-74. For Blanton, the mentality is centered around the fact that anybody can beat anybody.
"March on — go win it all," Blanton told GrizzVision. "It's 0-0, everybody's record is 0-0, so march on."