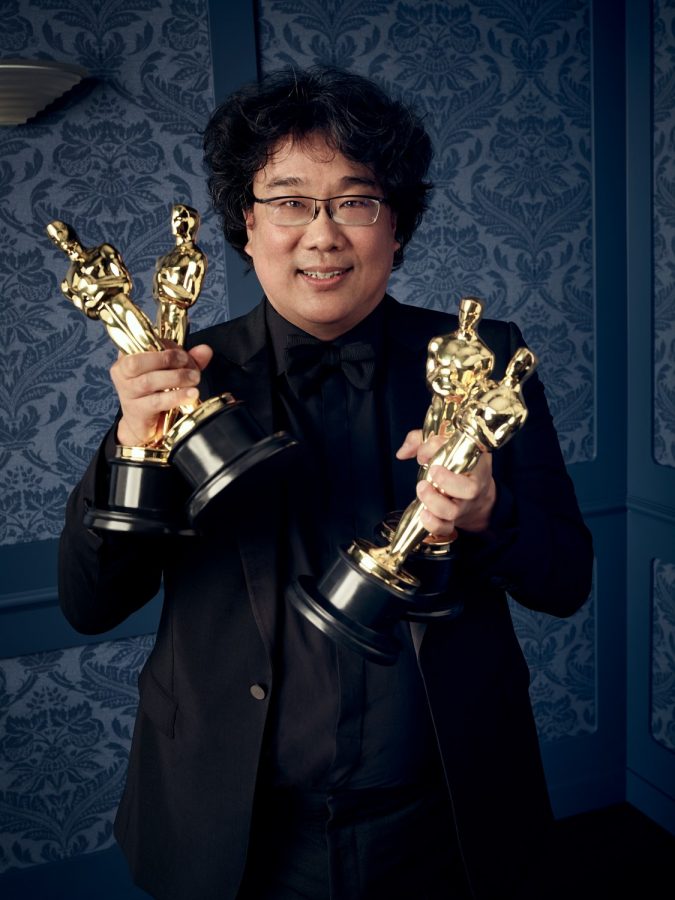 courtesy of The Academy
For 92 years, the Academy Awards have been considered Hollywood's biggest night. From the glitz and glamour of the red carpet to the star-studded surprises within the show itself, it's hard not to feel even the slightest bit of excitement when Oscar season approaches. 
Yet this year, the awards seem to have lost a bit of their prestige. Tainted by a generally uneventful pool of nominees lacking in diversity and inclusion (yet again), the hype leading up to this year's show was seemingly dead in comparison to previous ceremonies. Unfortunately, numbers don't lie, and the lack of interest this year showed in the ratings, which reached an all-time low Sunday night — just 23.6 million viewers.
But in spite of the ratings, there was still much to love about this year's ceremony — namely, Bong Joon Ho, whose historic Best Picture win for "Parasite" marked the first time in Oscar history that a non-English language film received the night's top honor. Ho also took home three other awards that evening, including Best Director.
"Writing a script is always such a lonely process," Ho said, with the help of his translator Sharon Choi, during his acceptance speech for Best Original Screenplay. "We never write to represent our countries … but this is very personal to South Korea."
Chris Rock and Steve Martin were quick to turn heads when they called out the Academy of Motion Picture Arts and Sciences within the show's first 20 minutes for the lack of "vaginas" among the Best Director nominees, alluding to the notable exclusion of female filmmakers in the category.
Though Oscar showrunners came under fire (and rightfully so) for the insufficient representation among the nominees, the show still gave a few powerful women the chance to shine. "Wonder Woman" star Gal Gadot and "Captain Marvel" star Brie Larson were joined on stage by Sigourney Weaver — largely credited with improving female representation in film with her role as Ripley in the "Alien" franchise — to introduce the Oscars' first female conductor, Eimear Noone.
"We just want to stand here together and say all women are superheroes," Weaver said. 
The trio also presented "Joker" composer Hildur Guðnadóttir with the award for Best Original Score, making her the first woman from Iceland to receive the honor. 
"To the girls, to the women, to the mothers, to the daughters who hear the music bubbling within — please speak up," she said. "We need to hear your voices."
Despite being the most nominated film of the evening, "Joker" was largely ignored by the Academy, receiving just two of its 11 nominations. In addition to Best Original Score, the film also received a Best Actor nod for Joaquin Phoenix's performance in the leading role. Phoenix used his acceptance speech as an opportunity to address a plethora of social issues.
"I think, whether we're talking about gender inequality or racism or queer rights or indigenous rights or animal rights, we're talking about the fight against injustice," he said. "We're talking about the fight against the belief that one nation, one people, one race, one gender or one species has the right to dominate, control and use and exploit another with impunity."
In one of the night's most talked about moments, Phoenix, who beat out the likes of Leonardo DiCaprio for "Once Upon a Time in Hollywood" and Adam Driver for "Marriage Story," also addressed his own personal conflicts and expressed his gratitude for the "second chance" he was given by his peers.
"I've been a scoundrel in my life. I've been selfish. I've been cruel at times, hard to work with, and I'm grateful that so many of you in this room have given me a second chance," he said. "And I think that's when we're at our best — when we support each other. Not when we cancel each other out for past mistakes, but when we help each other to grow, when we educate each other, when we guide each other toward redemption. That is the best of humanity."
Meanwhile, Renée Zellweger took home Best Actress for her leading performance as Judy Garland in the biopic "Judy." Her acceptance speech was largely a tribute to the late Garland, who never received an Oscar.
"This past year, conversations celebrating Judy Garland across generations, across cultures, has been a really cool reminder that our heroes unite us," Zellweger said. "I am certain that this moment is an extension of the celebration of [Garland's] legacy that began on our film set, and it is also representative of the fact that her legacy of unique exceptionalism and inclusivity and generosity in spirit, it transcends any one artistic achievement."
Meanwhile, Brad Pitt and Laura Dern received Best Supporting Actor and Actress for their performances in "Once Upon a Time in Hollywood" and "Marriage Story," respectively. Pitt's acceptance speech directly addressed President Donald Trump's recent impeachment trials, starting the evening off on what ended up being an unsurprisingly politically charged ceremony. 
"They told me I only have 45 seconds up here, which is more than the Senate gave John Bolton this week," he said. "I'm thinking maybe Quentin [Tarantino] does a movie about it … and in the end, the adults do the right thing."
Though Hollywood's intensified political activism was certainly in full force that night, it didn't detract too much from the spectacle of the awards and performances.
In addition to the collection of lengthy acceptance speeches, there were a plethora of performances, including the likes of Best Original Song winner Elton John, Janelle Monáe and Billie Eilish. On the heels of her Grammy sweep last month, Eilish performed a cover of the Beatles' "Yesterday" during the ceremony's "In Memoriam" tribute. The segment stirred controversy after omitting Disney star Cameron Boyce and actor Luke Perry, the latter of whom starred in "Once Upon a Time in Hollywood," one of the night's big nominees.
But the real showstopper was the surprise appearance of Detroit's own Eminem. Though he won the Oscar for Best Original Song in 2003 for "Lose Yourself," he was not in attendance at the ceremony. After 17 years, Slim Shady finally got the chance to perform his "8 Mile" track on the Oscars stage, serving as the culmination in a tribute to previous Best Original Song winners.
In spite of all the controversies, the end result of this year's Oscars proved to be relatively satisfying, all things considered. One year later, the Oscars are still hostless, bland and out-of-touch. But progress is being made — we went from a Best Picture celebrating social ignorance (sorry, "Green Book") to "Parasite," one that embraces internationalism and leaves us with hope for the future of Hollywood.