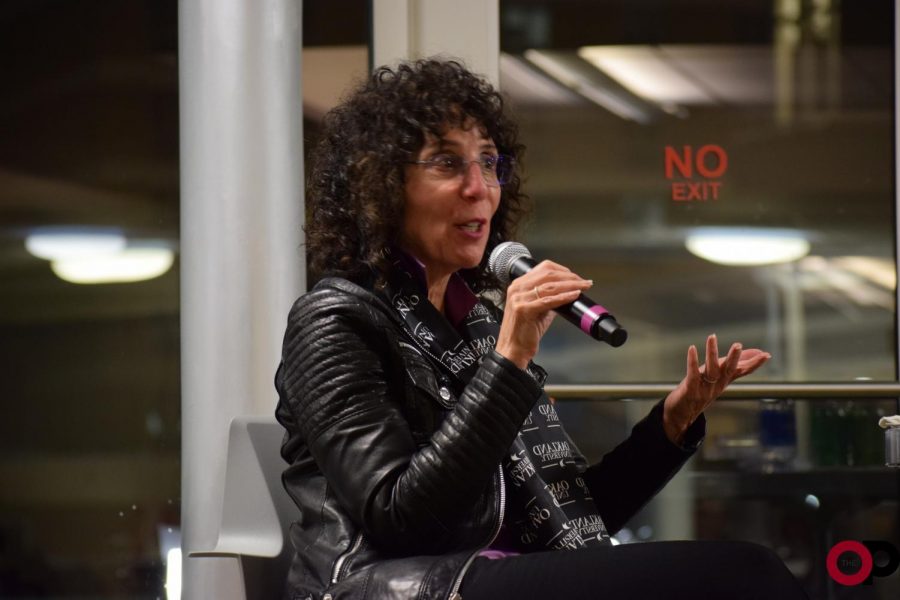 Maggie Willard
Navigating college inevitably raises many questions for students, leaving them with crippling debt and increased anxiety. While the issues college students are facing may seem overwhelming, Oakland University President Ora Hirsch Pescovitz sought to alleviate some of those concerns during the fifth biannual Ask Ora event on Thursday, Nov. 14.
Pescovitz sat down with Vice President of Student Affairs and Chief Diversity Officer Glenn McIntosh to give students the opportunity to address issues affecting them on campus, including student debt, upcoming building renovations, environmental sustainability, and diversity and inclusion. The event was moderated by Director of Presidential Communications Frank Provenzano and Vice President of University Communications and Marketing John Young.
Pescovitz began the event by asking for a moment of silence for OU student David Molnar, who died unexpectedly after suffering a fatal seizure the week before. A vigil will be held Thursday, Nov. 21 at 6 p.m. on campus in his honor.
One of the most prominent topics of conversation was OU's strength in enrollment, which Pescovitz attributed to OU faculty members, as well as the university's investment in the students.
"We have among the best and most prominent faculty in the country, but one of the things that really distinguishes Oakland from many of the other universities in the state is that our students … are taught directly by our faculty, not by TAs and by graduate students," she said. "When you go to some of the other universities around the state and around the country, that's not always the case."
Pescovitz reaffirmed there would be updates to Wilson Hall and announced her excitement for the upcoming renovation to South Foundation Hall, which is slated to start undergoing construction over the summer. McIntosh confirmed that gender-neutral restrooms are being included in the plan for South Foundation, and will be included in future building updates as well.
Young also mentioned that the mobile offices in the center of campus will be moving over the summer, but will still be necessary in other areas on campus due to the lack of space as a result of the South Foundation renovation.
The forthcoming renovations to South Foundation have proven to be controversial, though, as the building will be rendered inaccessible, forcing several departments to relocate their classes for a planned five semesters. According to Associate Provost Michelle Piskulich, university administrators are working diligently to ensure there is enough classroom space for departments and faculty members who are affected by it.
"We actually have been working closely with the Registrar and Classroom Support and Facilities Management to identify every possible space on campus … to actually turn it into a classroom during the construction period," she said. "We actually have found a lot of spaces, so we will be taking over some conference rooms, but also some spaces that maybe have been underutilized under departmental control during this period."
With the rising cost of education at the forefront of students' minds, student debt was also inevitably discussed in great detail. According to Pescovitz, the average Michigan college student graduates with over $30,000 in debt, while the average OU student graduates with approximately $25,000 in debt.
"I am very concerned about student debt, and I recognize what kind of a burden it is for students and their families to pay for college," Pescovitz said. "I'm proud that we've been able to make the average [cost of tuition at Oakland] lower than the average in the state, because that's a reflection of our commitment and our goals … I want to do everything in my power to bring that number down more."
Concerning environmental sustainability, Pescovitz admitted "it is on [her] mind a lot," but OU is not doing enough.
"I like to say you can't boil the ocean — you can't do everything at one time," she said. "Just this week, we have actually ramped up our initiatives on this, and a number of faculty and students and staff are gearing up together to try to learn what we can from those institutions that are really in the lead on this."
The evening ended with a tease of some changes in campus food vendors with more details coming soon, as well as a conversation on diversity, equity and inclusion, something Pescovitz has been very vocal about improving on campus.
"The very first thing that I did when I came to the university was to make that my number-one initiative — diversity, equity and inclusion," she said. "It's not that it wasn't here before, it was. But we didn't articulate it. We didn't talk about it … No matter what, Oakland needs to be a warm, welcoming and tolerant community for everyone."
Update: A previous version of this story mistakenly attributed a quote regarding the South Foundation Hall expansion to Assistant Vice President of Budget and Financial Planning Michele Knox, but it should have been attributed to Associate Provost Michelle Piskulich. The story has been updated to reflect these changes. The Oakland Post apologizes for the error.