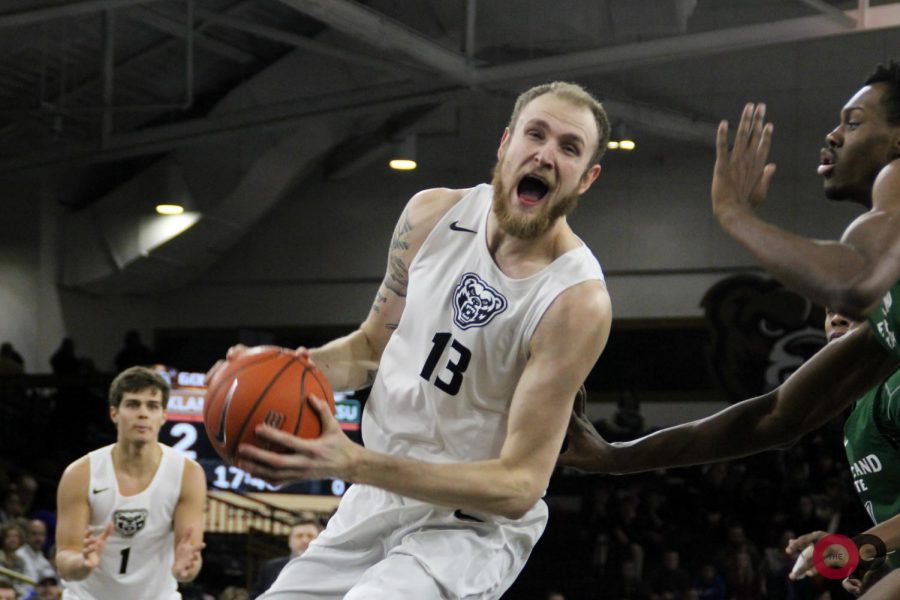 Elyse Gregory
Oakland led wire to wire as the final score closed out 83-68. They absolutely dominated the last place Cleveland State Vikings thanks to center Brad Brechting putting up a career high of 32 points and five rebounds.
Oakland has been hyper-successful in February since 2009, their record in the shortest month is 60-17 and now they're 1-0 this February. This win is also the 800th win of Golden Grizzly program history. Coming off a loss to Youngstown State, Oakland needed this inter conference win. Oakland's Horizon League record improved to 7-4, putting them in second place alone by half a game.
Oakland started the game ablaze, going up 10-0, it took Cleveland State over four minutes to put their first points on the board. Brechting achieved his career high in points during the first half alone. His former career high was 21 points which he had just set Thursday, Jan. 31.
Oakland ended the first half shooting 64 percent from the field. Brechting helped bolster the percentage, considering he went 11-11 from the field. Xavier Hill-Mais, who leads the team in scoring, performed many assists due to the double team he continued to draw. Hills-Mais assisted the ball a total of six times in the first half. Oakland entered the second half up 43-33.
The first points of the second half belonged to Brechting, setting the precedent he would remain hot. Brechting missed his first shot with 12 minutes left in the second half, before that he was a perfect 13-13, which is an Oakland record of field goals to start a game. As the game continued, the score was at a close for Cleveland State.
"We were banging on the inside," said Brechting, "They couldn't stop X [Xavier Hills-Mais] or I in there and when they doubled X, X had me on the other block… I made my first couple of shots, I started believing in myself. I had a lot of confidence in myself, I felt unstoppable with my teammates right behind me."
Cleveland State was exposed in every aspect of the game, they were beaten down low in the paint, they were beaten from deep and they were beaten in transitional play. Freshman Babatunde Sowunmi was able to check in at the end and attain his first career point from the free-throw line. Other notable stats throughout the game included a double-double by Hill-Mais that was 3 assists short of a triple-double, and Cumberland notched a 20 point performance.
"We're going into next weekend trying to get ourselves in first place," Head Coach Greg Kampe said. "That's an exciting thing to have happen in February with a team that didn't have a single person out there that would have said Oakland would have a chance to get themselves on top of the conference."
The 7-4 men's basketball team heads to fellow second place holder, Wright State University, for their next game on Thursday, Feb. 7 at 7 p.m.