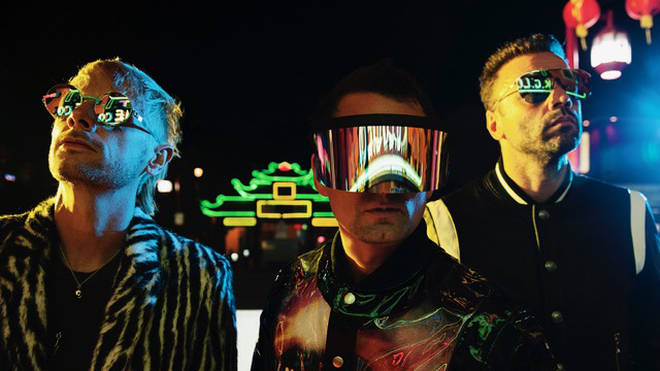 courtesy of Rolling Stone
Muse is back with their signature style within their new album "Simulation Theory."
Debuted on Friday, Nov. 9, the band released a super deluxe edition, featuring live performances of some of their songs, as well as both alternative and acoustic versions. The super deluxe edition features 21 songs, making it a very in-depth album. There will also be a music video released for each of the main songs, creating an even more immersive experience for fans of Muse.
Muse is made up of Matthew Bellamy on vocals, guitar and keyboard, Christopher Wolstenholme on bass and background vocals, and Dominic Howard on drums. The band is from Teignmouth, Devon, England and formed in 1994.
The album starts out strong with the song "Algorithm." The song's elegant music sounds classic, while maintaining futuristic elements. "Algorithm" begins with the lyrics "Burn like a slave / Churn like a cog / We are caged in simulations / Algorithms evolve / Push us aside and render us obsolete." The opening lyrics set the theme for the album, giving it a dark, dystopian vibe.
The song "Propaganda" feels very relevant for today's world. The song's chorus is catchy, with lyrics like, "Can't lose / You make me offers that I can't refuse / You keep telling pretty lies, babe / Baby, don't you know you can't lose? / You make me offers that I can't refuse, yeah / You contort me with your lies, babe / Don't you know that you just can't lose? / You make me offers that I can't refuse, yeah / You keep telling pretty lies / You play with truth."
The lyrics seem to be a reference to the problems with today's media and a way of commenting on the popular accusation of "fake news." Singing about propaganda within this song also seems to be a way of commenting on the way governments attempt–and at times success–to control and manipulate their image.
The song has a different, heavier feel then the band usually goes for, and was produced with record producer Timbaland.
"Dig Down" is another relevant song, but one with a much more hopeful outlook. In interviews, Bellamy explained that the song was inspired by the gospel music he heard as a child, and is meant to convey a message of hope, especially with all of the current events.
According to Genius lyrics and Bellamy's twitter, the second verse of the song is a reference to President Donald Trump, as Bellamy sings "When God decides to look the other way and a clown takes the throne / We must find a way / Face the firing squad, against all the odds / You will find a way."
The album ends with the song "The Void," which address existential questions, but remains hopeful. The bridge embodies the theme of the song, as Bellamy sings "It takes a leap of faith / To awake from these delusions / You are the coder and avatar / A star." It also ties in more to the theme of life being a simulation.
Overall, this album lives up to Muse's quality. This album is emotional, but interesting and timely.
My rating: 5/5