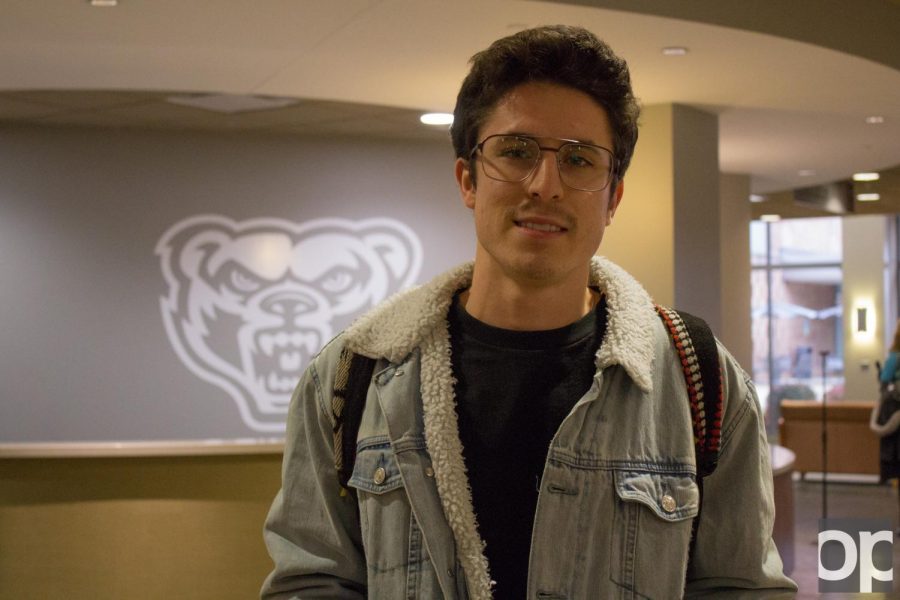 Elyse Gregory
When he started playing the guitar in high school, Alex Bommarito thought it was just going to be a hobby.  As years passed, the finance major began to find himself gaining exposure in a band.
He started making music when he was in band class. "I played trumpet, and then I picked up guitar in my high school," Bommarito said. "[I] have been playing ever since. I took lessons for a little while, and then I got into drums and guitar [around] seven years ago."
The band — made up of Bommarito, Cody Lossing and Miles Stanis — met each other through community college and work.
"I've been in a few bands over the years, this is the band I've been with the longest though," Bommarito said. "I like writing, I like playing shows, and it's getting bigger, so I'm definitely going to stick with it."
Bommarito transferred to OU after being drawn to the affordability of OU, as well as their business school. He explained that although it was hard at first because OU is a largely commuter school, he enjoys it a lot more now that he is involved around campus.
Once he started at OU, Bommarito rushed with Theta Ki. He balances work, school, his fraternity and the band. He says of balancing everything, "I would like to practice more, because normally with everyone's work schedule, you get out like once a week at the most…there's not a whole lot of time, we fit it in whenever we can."
Bommarito said his finance major does help him market the band better and work on selling merchandise for the band, as he takes marketing classes through the school of business.
"Right now I plan on using my finance degree, and I want to go into something finance related," Bommarito said.  "But I mean, I'm still able to do pretty much everything I want with the band at this point, so I'll continue this on for the foreseeable future."
In finance, Bommarito said he's interested in business analytics, with a focus on one business to "sort of analyze what makes the business do better, what they do worse and sort of adjust from there."
Bommarito enjoys business as much as he enjoys music.
"I've always been into business, even when I was in high school I knew I was going to go into something in business," Bommarito said. "But I didn't know what [until] last semester… so it's all coming together at this point."
Bommarito has already had an internship in finance, and said the strong job placements are one of the reasons he came to Oakland.
Fit the Bill is currently recording new singles, and are aiming to record more by the 2019, with plans for an album shortly after. Bommarito also writes and performs solo music.
Their current EP, Basement Collections, is available for streaming on Soundcloud. The band's next show will be on Nov. 17, at The Sanctuary in Hamtramck.