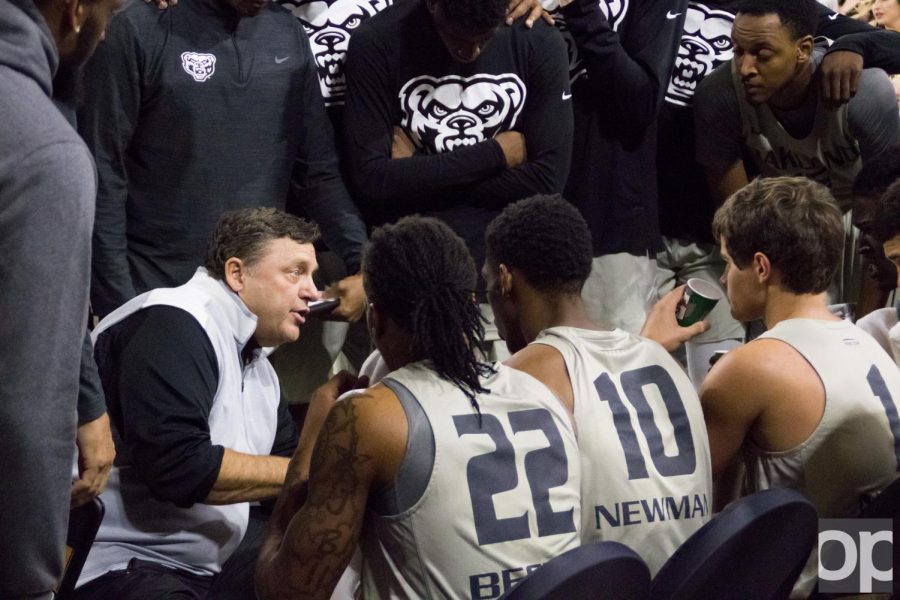 Elyse Gregory
To open up the 2018-19 basketball season, the men's basketball team hosted the Division II Hillsdale Chargers at home. In what many Golden Grizzly fans expected to be a blowout, the Chargers kept it close throughout the game, resulting in an Oakland victory with a final score of 67-61.
The stat leader for the Golden Grizzlies was Xavier Hill-Mais, as he recorded 17 points, 10 rebounds and three assists. Hill-Mais struggled early on in the game, but made crucial plays down the stretch to win the game for Oakland.
This game was definitely a "kick off the rust" type of game for both teams. After months without playing a real game, the entire 40 minutes was filled with turnovers and fouls on both sides. Oakland had 25 turnovers and 24 fouls, and Hillsdale turned the ball over 18 times and committed 26 fouls.
Both sides also struggled with shooting throughout the game, particularly in the first half. When the second half started, both teams picked up the shooting pace, improving drastically upon first half percentages.
Shooting guard Jaevin Cumberland went down in the second half with a left leg injury, as he was helped off the court by the athletic staff, unable to put any pressure on the leg. Guard Karmari Newman received more minutes in his absence, recording nine points and four rebounds in his 23 minutes.
What Golden Grizzlies fans can take away from this game is potential. It was a tough fought match with a team that had a lot of energy from the start. Throughout the game, Hillsdale was playing like it was their championship game. Oakland pulled away when they needed to and showed a lot of talent when their offensive sets played out the way they wanted them to.
Standout players for me were James Beck, Braden Norris and Hill-Mais. Beck and Hill-Mais led the way with scoring and rebounding, Beck had 16 points and six rebounds.
Norris may have not filled up the stat sheet, but was an impact player in his 18 minutes of play. He committed no turnovers and no fouls, which was rare for any player on the court. Norris also provided a great defensive presence, playing with hustle and effort. He played above his freshman class standing.
Overall, Oakland fans didn't seem happy about the result of this game, but a win is a win. In the first game of the season, to shoot 44 percent from three and play clutch down the stretch is a good sign for what this team typically likes to do. A Greg Kampe team that can knock down threes is a team that can win games in the Horizon League.
Rebounding has always been an issue for this team, and they dominated the boards 40-27. This is a young team that lost a lot of scoring leaders, and needs time to figure out the right rotations and their identity. Not an encouraging score, but the reality is it was only an exhibition. Oakland basketball has a lot of young talent and versatility that will find their identity as the season goes along.