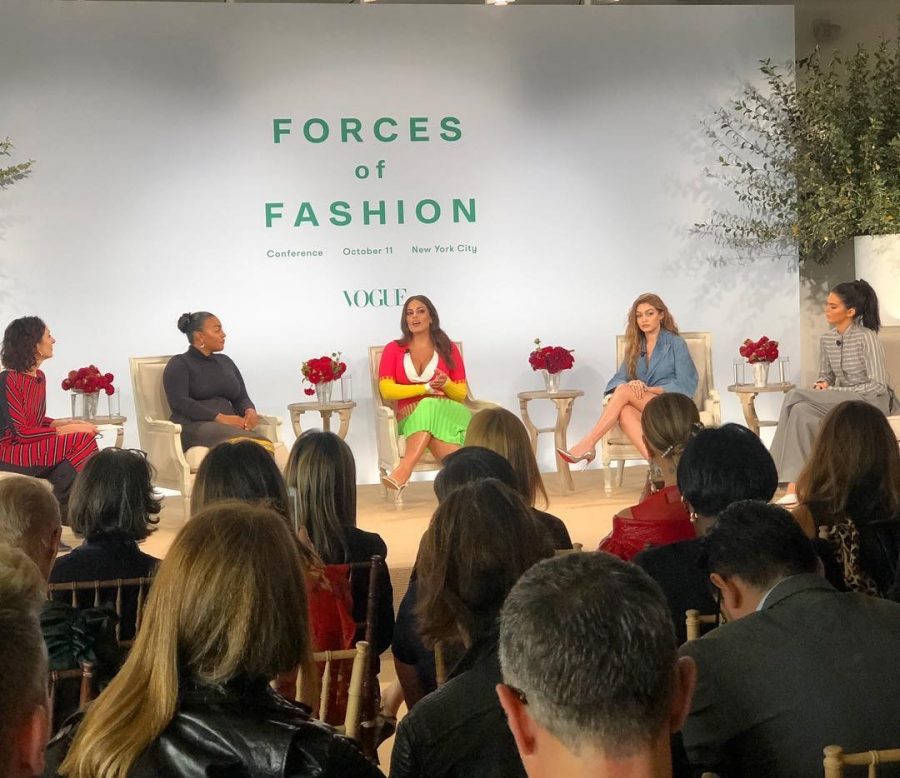 Katarina Kovac
Vogue held its second annual Forces of Fashion event at Milk Studios in New York City on Thursday, Oct. 11. This year's theme—Forces for Change—featured conversation between designers, editors and influencers that focused on the shift occurring in the industry today.
Fashion devotee's paid a steep price at $3,000 to attend this event. Now, you may be thinking that the price is quite high for a single day event, but the perks are certainly worth it. What other time will people of the public get the chance to sit down with designers, editors, moderators, celebrities and even Anna Wintour herself over lunch and cocktails? Unless you work in fashion, the answer is never. It's certainly not every day that you have a chance to converse with some of fashion's biggest names.
The lineup for this year's conference was made up of Clare Waight Keller of Givenchy, Pierpaolo Piccioli of Valentino, Eva Chen of Instagram, Ashley Graham, Kendall Jenner, Gigi Hadid, Kris Jenner, Zendaya, Annie Leibovitz and more.
The first panel featuring Valentino's creative director Pierpaolo Piccioli and Vogue's Hamish Bowles featured conversation on Piccioli's humble upbringing.
"When I was a kid, I felt that fashion was something so far from everything," Piccioli said. "I wanted to escape from the places that felt too small for me."
Piccioli enrolled in Rome's Instituto Europeo di Design to study fashion. He explained that during his time there, he became fascinated with politics and was considered an outsider. He was able to understand later on that his individualistic nature allows him to see beauty in a different way and to think alone, which in turn has made his career at Valentino so successful.
The next panel featured the legendary Annie Leibovitz and Vogue contributing writer Jonathan Van Meter.
Leibovitz is an American portrait photographer whose work has appeared numerous times in American Vogue, including subjects like Kate Moss, Kim Kardashian, Michelle Obama and more. She photographed John Lennon on the day he was assassinated, and her work has been used on numerous album covers and magazines. As she became the first woman to hold an exhibition at Washington's National Portrait Gallery in 1991, Leibovitz has truly been a force of change in the world of photography.
After leaving Rolling Stone in 1983, Leibovitz was asked to shoot couture shows in Paris with Kate Moss in 1993 by Anna Wintour. The shoot, which also featured Sean Combs, was described as "the meeting of two worlds: rap culture and high fashion," Leibovitz said. "I learned so much about photography from fashion photography."
Clare Waight Keller, creative director of Givenchy, sat on a panel with Instagram's Fashion Director Eva Chen. Upon recalling the moment she learned about her assignment of designing Meghan Markle's custom wedding dress, she had only been at Givenchy for six or seven months.
"The commission itself was really quite a moment for me," Keller said. "A huge thing for both my career, but personally as well, being a Brit and being able to be a part of a piece of British history."
When Kensington Palace announced that Keller designed the dress, the majority of the press was based around the fact that Keller was the first female designer of Givenchy. Although Keller is certainly proud of the achievement, she said that she thinks of herself first and foremost as a designer.
My favorite panel was between Hadid, Graham, Kendall Jenner and Paloma Elsesser. The group discussed their journeys into the modeling industry, as well as challenges they have faced and misconceptions that society has in regard to their careers.
"Every day there's still resistance for curvy women in the industry, and there is tokenism for curvy women in the industry," Graham said. "It has become so much more normal, but I've had people tell me, 'You need to lose weight,' or that the 'clothes don't fit you, so we're not shooting you…I was like, 'You know that's not going to happen right?' All this right here is a part of me. You still have to fight every day. Resistance is just a part of my career and that's why I fight so hard and call myself a body activist."
Continuing the conversation on diversity in the fashion industry, Paloma Elsesser added that despite her and Graham both being plus size models, they each face their unique set of challenges and obstacles.
"We're supposed to be the pillars of the actual norm in America," Elsesser said. "[Graham] and I are in the same industry, but we represent very different women, different identities, different experiences."
Kendall Jenner touched on the struggles that she has faced when trying to balance between private and public life.
"For me, it's always been a huge thing to keep that private aspect of my life," Kendall Jenner said. "I almost feel power in having that, and I think there's something really beautiful to be said about that. I've strived for that almost my whole career, but I've realized recently that having so much privacy leaves room for people to create a narrative for you, and for people to assume something of you that could be completely untrue."
For some, the most anticipated panel featured Kris Jenner and Vogue's Sally Singer. Kris Jenner dished on the secret to her success, as well as what motivates her children to stay in the business.
"I get up really early every morning at about four or five; I don't sleep a lot, so I'm trying to get a lot done early morning…I plan my day while Europe is up, get in most of my phone calls while New York is up and by the time Los Angeles wakes up, I'm ready to go."
Keeping their fans engaged and excited, Kris Jenner said, motivates her daughters.
"With all the kids, their number one focus when they enter the creative process is: What will the fans love, what will my followers be interested in? They get an extreme amount of satisfaction and excitement from the process."
With another Vogue event under my belt, I couldn't be more grateful to the staff for allowing me to be a part of the execution of such an inspiring event.