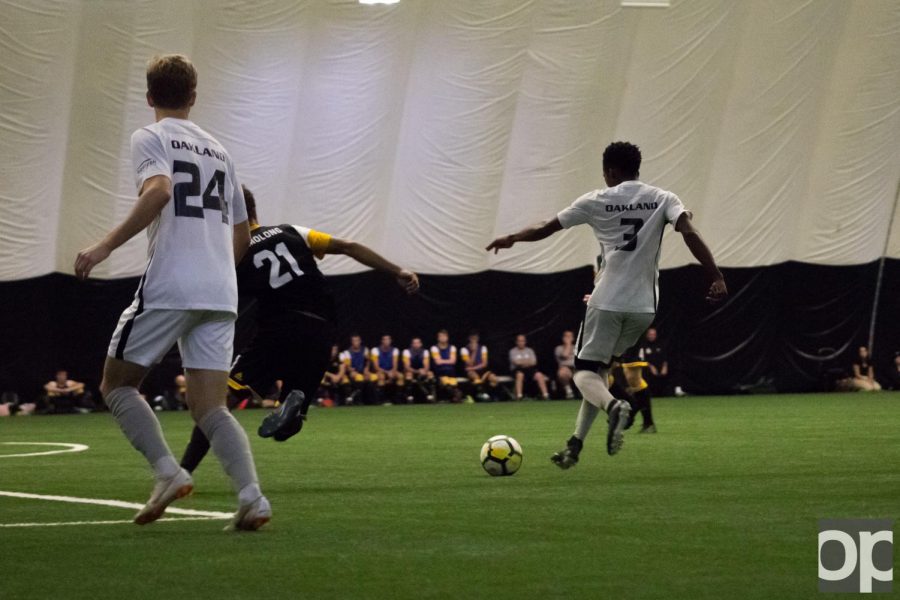 Elyse Gregory
Despite being rained on and having to move into the athletic bubble from an already different location in the upper fields, Oakland beat the Northern Kentucky University (NKU) Norse 3-1.
Within 44 seconds NKU had already taken a shot, lucky for the Golden Grizzlies it was wide. After that in the sixth and eighth minutes, NKU put two more shots on net, one of the two nailed the post. After that, Oakland continued to apply pressure with multiple shots on net. In the 26th minute, forward Nebojsa Popovic scored, beating the keeper to the right side of the net. It was assisted by defender Elliott Bentley.
In the next six minutes, Oakland pressed the Norse, each team traded corner kicks and the only difference was Oakland scored in the 32nd minute on their corner with a header by defender Luke Morrell that was assisted by midfielder Noah Jensen.
Once that happened, NKU decided to make two substitutions trying to adjust to Oakland's hot start. In the 39th minute Harvey Moyes, who had just checked in, committed a yellow card foul for the Norse. After the foul, there were no shots from either team, and the half ended with the Golden Grizzlies up 2-0.
Onto the second half, Oakland started with three quick fouls which ultimately lead to a 50th-minute goal by Northern Kentucky's forward Alex Willis. He beat the keeper to the left side of the net. The goal was assisted by defender Felix Komolong. This goal was followed with three yellow cards within minutes, two of them by NKU both in the 53rd minute and one by Oakland in the 51st minute.
The next three key plays didn't come until after the 80th minute. Oakland's goalkeeper Sullivan Lauderdale came up with two saves in the 81st minute and the 88th minute holding the Golden Grizzlies lead. Less than 30 seconds after the last save Oakland beamed in down the field, and Popovic got his second goal of the game and his 5th goal of the season. The goal was assisted on by Jensen. The final goal sealed the deal for Oakland as the game closed out a 3-1 final.
"We have been working on it all season," defender Luke Morrell said in a GrizzVision interview. "I've been making the same run for 11, 12, 13 games now and it finally paid off. It feels good to get my first real goal."
Head Coach Eric Pogue was pleased with his team's effort in adverse weather conditions.
"First off, I have to give a lot of credit to the Oakland University staff who did yeoman's work to MacGyver [and put] all this together… and hats off to Northern Kentucky for being gracious for having to move things," he said in the a GrizzVision interview. "I thought we played one of the best games of the year and we knew had to, to play a quality team like them."