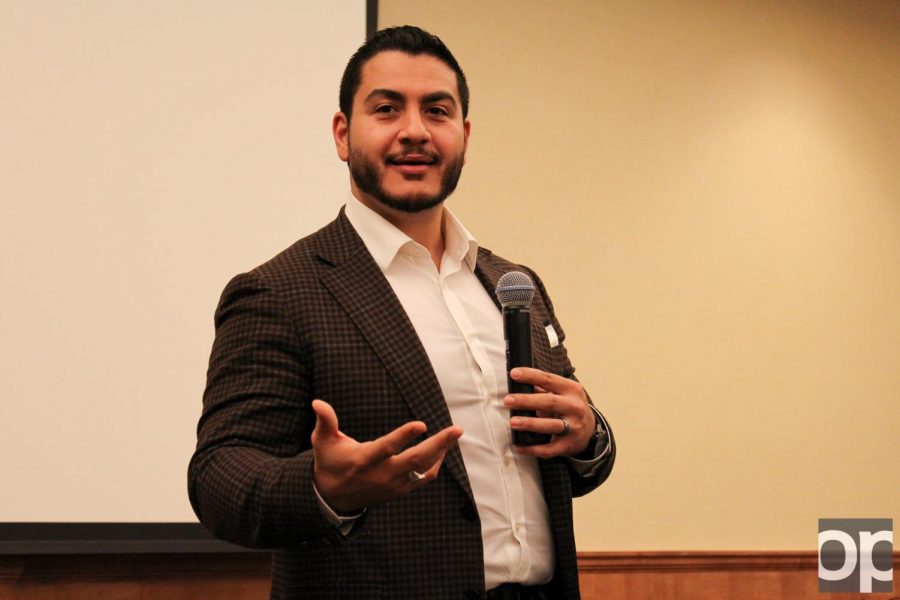 Elyse Gregory
Tuesday night saw former gubernatorial candidate Abdul El-Sayed return to Oakland University for a speaking event presented by the Arab-American Student Association (ASA).
With his loss in the 2018 Democratic Party primary in August looming over the room, Sayed started the night with the question of "Where do we go from here," as well as a discussion of how to take failure. To cover this topic, Sayed chose to recount his career in medicine, academia and public health.
When Sayed was a medical student working a sub-internship at a hospital, a woman with alcoholism came into the emergency room with a head wound. After finding out that she also had AIDS, diabetes and uncontrolled blood pressure, he decided to use her as his "referendum on clinical medicine."
"If I could help her," Sayed said, "then maybe this is a tool that I can use [to help people]."
Sayed was able to set her up with a HIV-friendly rehab center and housing, but she turned the assistance down to live with her daughter. He would see her two weeks later sleeping on the subway, leading him to realize that medicine was not going to be a suitable tool for what he wished to achieve.
Dissatisfied with his work in the medical field, Sayed turned to academia as a professor, but would remain unsatisfied. Sayed then entered the public sector, becoming executive director of the Detroit Health Department. During this time he would oppose Marathon Petroleum's requests to raise sulfur dioxide emissions, provide 60,000 Detroit children with glasses and have the water in Detroit Public Schools tested for lead.
Sayed ended the speech by telling the room to leverage their privilege to improve their communities, and left them with three points to remember.
Institutions are not always there for the people, but for their own gain.
Taking risks is hard, but is worth it. He was inspired to run for office when he saw Barack Obama – someone who was different from the typical politician – win the presidency, and said he saw many people inspired during his run.
A person's principles is more important than their demographic. He claimed he ran not to be a "first Muslim" or "first Egyptian-American" governor, but as a "damn good governor."
In a Q & A session after his speech, Sayed did not shy away from commenting on the current gubernatorial race. He endorsed his former opponent Gretchen Whitmer, telling the crowd to vote for her on Nov. 6 and hold her accountable on Nov. 7, and said of the Republican candidate "I think Bill Schuette is just frankly evil."
Sayed mentioned that politically he would "be back at it." While this is not a definitive call for a new campaign in 2022, it does line up with his post-primary endeavors. He has set up the Southpaw Michigan, a Political Action Committee who promotes politicians with similar views as Sayed and Alexandria Ocasio-Cortez. He is also  a political activist. Earlier that Tuesday he was arrested at a "Fight for $15" rally in Detroit.
"I thought it was really interesting," ASA vice president Maya Ahmad said of the speech. "It motivates me for now and for the future, and I feel that it puts all of us in a position where we want to make the world a better place for everyone."