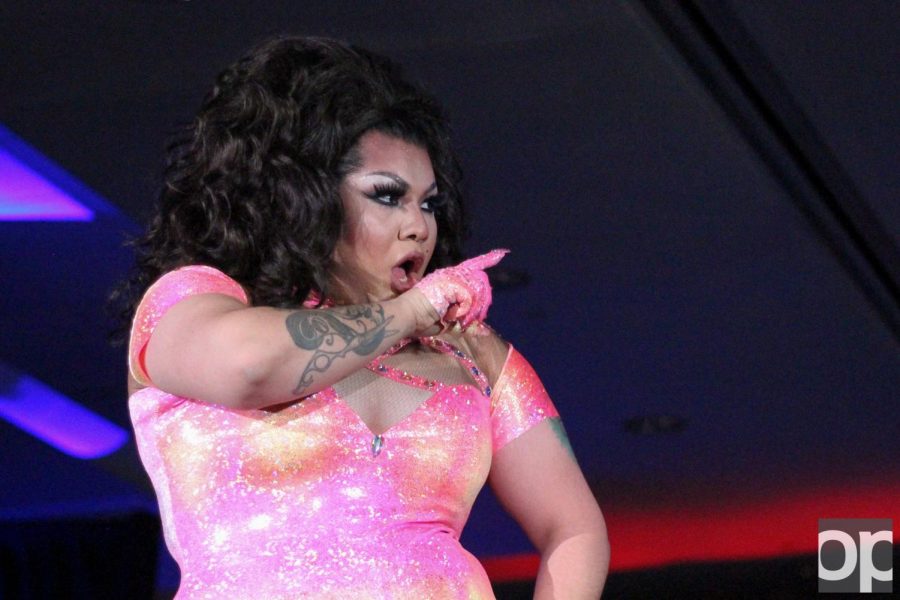 Elyse Gregory
For the 15th year, OU welcomed professionals and students to perform at the annual Drag Show.
Stacey Striker, whose name has been changed due to legal reasons, said even though this year's performance just passed, there has already been talk about next year's performances.
"I can't say for sure when it is, but expect those dates soon," Striker said.
Hershae Chocolate, Sabin and Emma Sapphire returned as professional performers alongside numerous student performers. To book these performers the 2017-2018 President of the GSA, Jaclyn Radziszewski, made all the calls.
"It's interesting to talk to the professional queens on a professional level, doing things like contracts, handling W-9s and all of that," she said.
One such group of student performers was 99 Degrees, the name of the boyband-like performance fans of the Drag Show have seen for the past few years.
"Everyone loses their f****** minds over the boyband," Striker said.
Student performers begin auditioning in January, and throughout the winter semester meet with the GSA to run over the details of their performances. This year, in the weeks leading up to the performance, the GSA advertised different performers on Facebook, introducing them to the masses.
"It's validating to be seen as a performer, and it feels surreal to see yourself being advertised," Striker said.
The planning process is intense, and usually begins a full year before the performance.
"It's been crazy to plan, it's by far the biggest event I've ever planned, or ever will plan," Radziszewski said. "There won't be 600 people at my wedding."
This year being the 15th anniversary sparked the idea of having a Pride theme. Along the back of the stage were donated flags from GSA members, all of which expressing their gender and sexual identities.
"Everything is gay, and I'm so happy to be in this space surrounded by so many LGBT themes," Striker said. "It's all rainbow, it's like I'm meant to be here."
Radziszewski said the GSA's drag show functions well as a way for people who may not know what drag is to get acclimated with it and enjoy the performances.
"There's a different element, because you're supporting your friends, your fellow students, not just professionals," she said. "Either way, it's still just as much fun."
Grace Wojcik, the coordinator of the Gender and Sexuality Center and the adviser to the GSA, said that each year the show gets bigger.
"When I became the director, we used to serve food at the drag show," Wojcik said. "That was a logistical nightmare, and an added expense."
Wojcik also said that when she first started, there were no student performers. Today the Drag Show removed the food from the night in order to add extra seats and put more of a focus into the themes and decorations.
"It's an entertaining and accessible drag show, and it's more within a lot of people's comfort zones," she said.
She said that as long as things go the way they have been, she sees the drag show being bigger, better and filled with even more student performers 15  years from now.
"Drag is a performance of gender, it doesn't just mean performing as an 'opposite' gender," Radziszewski said. "It gives you the ability to play with gender and make it your own."