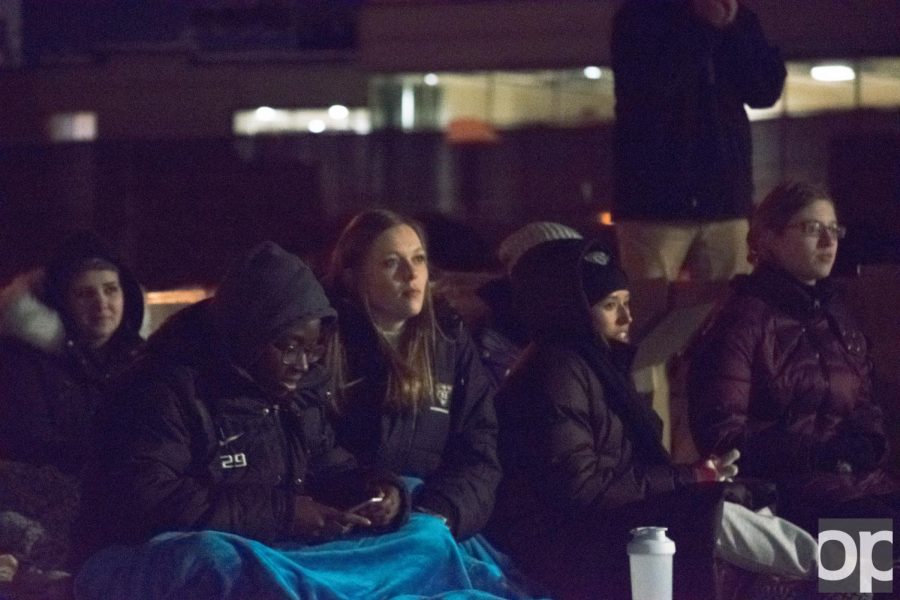 Samuel Summers
In lot P-2, a group huddled together in the dark as they built shelter out of donated cardboard boxes. Oakland University students, staff and facility joined together for the Fight the Night event on Saturday, March 3 to raise awareness of homelessness in Pontiac. 
This event kickstarted fundraising efforts through the support of the Wellness, Health Promotion and Injury Prevention Society, with faculty members such as Professor Charlie Rinehart, who started the event in 2015 with his WHP 380 class.
The event was partly created to raise money for the Baldwin Center,  a non-profit organization that runs multiple programs for the homeless such as a restaurant-style soup kitchen, after-school education programs and a clothing closet. The Baldwin Center relies mostly on volunteers and donations of money, food and clothes to continue to serve the community.
"This is the first year that WHP Society has taken over this event, thanks to the sponsoring of the OU Greek Council," said Carly Gluntz, vice president of the WHP Society. "We were approached by Charlie Rinehart, who previously ran this event with his class as a service project. But since there was a need to make time for other service projects and the fact that they couldn't do it every year, he asked us if we would be willing to host it instead."
OU students, staff and faculty began arriving around 7 p.m. to lay down tarps and break down cardboard boxes. Working together to build a sufficient shelter, several students volunteered to sleep through the night in their makeshift structures.
"This was the perfect weather for the event," said Dr. Kate Rougeau, academic adviser for WHP Society and assistant professor of Wellness and Health Promotion. "Rain, shine or snow, sometimes shelters are full or there's no home for [the homeless] to go to. The least we can do is spend one night in the cold and listen to the speakers and what they have to say."
Other speakers included Leah McCall from Alliance for Housing of Oakland County, who presented on the homelessness in Oakland County, Dr. Scott Crabill, a representative for the Baldwin Center board of directors and Dr. Jason Wasserman, an associate professor of biomedical science from OU, who talked about homelessness and health.
After the presentations finished, Rising Stars Academy provided boxed lunches for those attending. From 11:30 p.m. until 5:30 a.m., there was a quiet time in which all electronics were silenced to focus on reflecting on the discomfort and anxiety felt by the homeless on a daily basis.
Fight the Night is the first of several fundraising projects that will lead up to the main fundraising gala for the Baldwin Center in May.
"Pontiac is one of the poorest cities in the area," Rougeau said. "Its neighboring cities, Rochester and Auburn Hills, are some of the richest. It is our responsibility to aid those depending on us to do something to help."