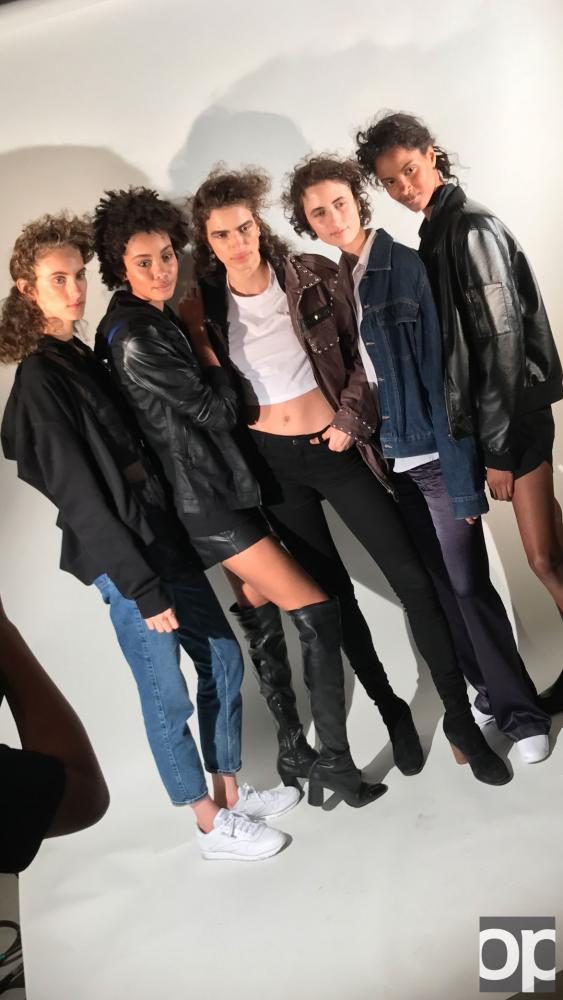 Katerina Kovac
This season of New York Fashion Week, I was lucky enough to assist the public relations team at PR Consulting with the execution of Adam Selman's SS18 Runway show and assist Jonathan Simkhai's team with the execution of his SS18 Runway show. Here's how it all went down.
Sept. 6 (Four days before the Jonathan Simkhai show)
11:00 a.m.: I am standing in the showroom watching Jonathan analyze each look while models perform their runway walk. Our photographer takes pictures of the model once she is approved for the show and I am in charge of cutting photos to be pinned on the board by Jonathan. Glamorous, I know.
12:00 p.m.: Caroline Vreeland comes in for her fitting. She leaves with a look for her front row seat at his show. Just to disclose: Celebrities do not own half of the merch in their Instagram photos. Designer loaning is very much a thing.
6:00 p.m.: I get sent on an errand to Staples with a long list of supplies needed for the hair and makeup team. I wander around like a young child looking for their mom in the grocery store, and ask the same employee approximately 100 times where certain items are located. I'm pretty sure he hates me, so I leave him with the final words, "I'm so sorry, I'm just an intern."
8:00 p.m.: I leave the office and head back uptown to stuff my face with a much needed meal.
Sept. 7 (The day of the Adam Selman runway show)
11:00 a.m.: I head to the Vogue Headquarters in the One World Trade Center to meet up with Xavier Gonzalez, the assistant director of operations at the magazine.
12:00 p.m.: I open the iconic Vogue glass doors and am graced with Xavier's presence.  We walk past Anna Wintour's (the editor-in-chief of Vogue) office while she is in an important meeting with a colleague. I pinch myself because I am within 10 feet of her. Xavier and I proceed to a conference room to catch up and discuss current happenings at the company.
1:00 p.m.: I rush out of the Vogue Headquarters in an effort to make call time for the Adam Selman show, but before I actually leave, Xavier hands me a special edition September issue from his desk. It weighs about 10 lbs. Did I carry it around with me the rest of the day? Of course I did.
1:30 p.m.: Making it to the PR Consulting headquarters, I hug my boss Tash and hurry to change into my all black fashion PR outfit for the show.
3:00 p.m. We walk to the venue at Skylight Clarkston Square. We are carrying American Civil Liberties Union ribbons, show notes, seating chart and special gifts from Adam for select front row show goers.
3:15 p.m.: I receive my Adam Selman all access pass. I dreamt about receiving one of these my whole life. It's go time.
7:00 p.m.: I can't talk. I just checked in Virginia Smith and Hamish Bowles. Time to watch this magical show unfold.
Sept. 8 (Day before Jonathan Simkhai's show)
8:00 a.m.: Heading to the Simkhai offices, I know today will be utter insanity.
3:00 p.m.: I haven't sat down once yet. I've been fitting models in a 5 x 6 room for the past six hours. I can't find my water anywhere. I ask the collection coordinator if I can quickly grab lunch with the fear of fainting and head out the door.
5.00 p.m.: My boss seems to like me which is a huge relief. She gave me a pair of white Reebok's to wear to the show tomorrow in honor of the Jonathan Simkhai x Reebok collaboration.
9:00 p.m.: My vision is blurred and my stomach is growling. Nobody has left the office yet.  It's going to be a late night.
11:00 p.m.: I finally head back uptown to crash.
Sept. 9 (Show day)
9:30 p.m.: I've been working since 8 a.m. and it's all a blur. I feel like throwing up. Heading to the after party.
Sept. 10
5:00 a.m.: Yesterday was absolutely incredible. During the 15 minutes models graced the runway, everything was jaw droppingly beautiful. Seeing the models that I dressed in fittings walk the runway in pieces that looked as if they were made individually for them brought tears to my eyes. Come to think of it, this life is all my seventh grade self could have asked for.
My casual run in with G-Eazy and Halsey backstage was a highlight as well. But they probably forgot my name after five whole minutes.
I'm so proud of what I accomplished this season alongside every single person I was fortunate enough to work with. The open bar at the after party was well deserved and Aluna George's music was a blessing to our ears.
Until next time, New York!