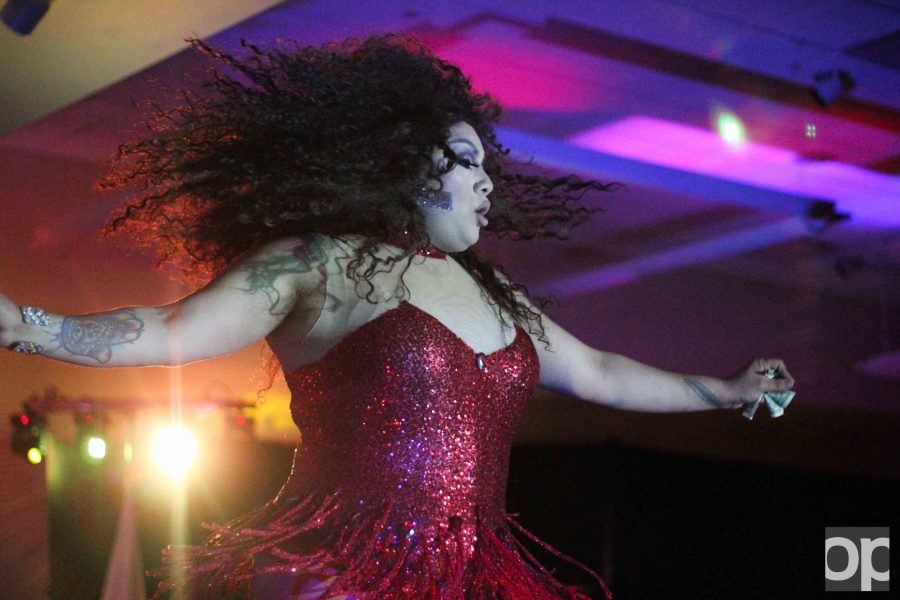 Elyse Gregory
The Gay Straight Alliance's 14th annual Drag Show drew hundreds of attendees on Thursday, April 6. The Oakland Center Banquet Rooms were at maximum capacity, with many standing against the walls to see the performers.
The Drag Show is held during Oakland University's Pride Week, which begins with Lavender Graduation and ends with Pride Prom. Though Pride Week is run through the Gender and Sexuality Center, the Drag Show is a GSA event.
"GSA is a student organization that aims to provide educational-, social-, political- and entertainment-based programming," GSA's President Jake Semma said. "We aim to provide a safe space for everyone, and want to create change on and off Oakland's campus. GSA amplifies the voices of those who don't have one."
"The most exciting part about setting up the Drag Show is the fact that the Gay Straight Alliance puts on a professional-caliber performance as students," said Grace Wojcik, director of the GSC. "I don't have to do basically anything because the students have it so down to a science."
Wojcik explained that the Drag Show serves as a way to introduce next year's GSA executive board, as well. The current academic year's board works in partnership with the incoming board to organize the event.
"There's a lot of one-on-one shadowing happening today," she said on Thursday. "The two e-boards kind of work together today to learn some of the ropes."
The Drag Show, according to Wojcik, is like sitting front-row during an episode of "RuPaul's Drag Race."
"If you're too afraid to go to a drag show at a bar or a club, this is a good way to see a drag show in a really safe environment, and it doesn't cost you any money," Wojcik said.
Students were encouraged to tip performers throughout the night, but there was no cover charge at the door.
This year, the Drag Show included three professional performers and seven student performers, with many taking the stage multiple times.
One of the professional performers, and the emcee of this year's show, is known by fans as Hershae Chocolate. She has been featured in the book "100 of the Most Influential Gay Entertainers" and was a contestant on season six of "America's Got Talent."
Joining her was local performer Sabin, who has been on stage for 15 years and regularly performs at Drag Queen Bingo at Five15 in Royal Oak. Relative newcomer Emma Sapphire was the final professional performer — she's been in the performance industry for over three years.
Workers from an off-campus organization called RESPECT were present and handed out surveys throughout the show that students could take to aid in LGBTQIA+ research. Participants were given $10 in return.
Students can get involved with the GSA by attending its weekly meetings at 12 p.m. on Thursdays or by visiting its GrizzOrgs page.