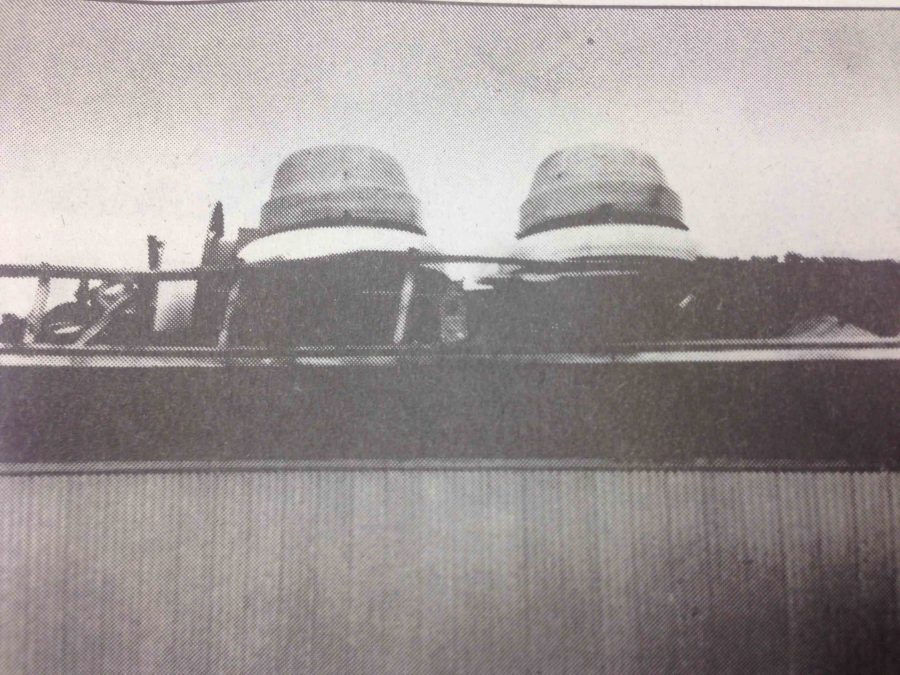 Archives
A chemical fire broke out in an Oakland University biology laboratory in mid-March 1994. Classes in Dodge Hall of Engineering were canceled as a result. 
Around 9:35 p.m. on March 14, Virinder Moudgil, a biology professor, smelled something similar to burning rubber. He saw flames and tried to quell them with his office fire extinguisher before calling the Department of Public Safety and the police.
"I was so nervous, I just told them to handle it and I'll wait outside," Moudgil said. "It [fire] can take you off the map like that."
He also said that, by the time he left the building, he was able to see some smoke throughout the building and felt the fire could have gone completely unnoticed for a long time.
The Auburn Hills and Rochester Hills Fire Departments were dispatched around 10:15 p.m. The fire was restricted to Room 304, and it flared up again between 12:30 and 1 a.m.
The Troy Hazardous Materials Team was called in to assist, and arrived shortly after 11 p.m. There weren't any sprinklers or fire retardants in the room.
By 3 a.m., the fire had traveled through the walls of Room 304 into the northwest corner of the fourth floor, where the Eye Research Institute offices were located.
It then spread through the roof, but was extinguished before it spread throughout the institute's offices. 
A total of 15 firefighters and two police officers were treated for smoke inhalation at a hospital in Pontiac. Four of the firefighters were kept overnight for observation, as well.
"In addition to the loss of facilities, equipment and chemicals, which is going to be a financial burden, it will take a long time to reestablish all of those thing[s]," Moudgil said. "That, in my judgment, is the greatest loss."
John Reddan, a biology professor, said the biggest problem was whether the freezers and refrigerators were still operational.
"We have cells that were growing, and they will have died if the electricity was turned off," Reddan explained.
Then Lieutenant Mel Gilroy, the commanding officer of OU's Police Operations, said Room 304 was completely destroyed.
"We got a room that's burned to the bone," he said. "The lab itself is totaled. There is serious smoke damage and a lot of water."
One of the major things damaged was a cutting-edge confocal microscope, acquired only months before the fire.
Fay Hansen, a biology professor, was working in a multi-use lab on the third floor of Dodge Hall. Twenty-three years later, she reflected back on the experience of losing three years of research.
At the time of the fire, Hansen was working under a National Institutes of Health grant. She never qualified for another grant, as she wasn't able to produce results in the time frame required.
She was also unable to receive her insurance claim for eight years after the fire. She filed multiple Freedom of Information Act requests regarding the claim throughout that time to start again on her research.
"I think even today, some of those observations I had would make huge impacts in the field," Hansen said. "I just don't have a way to publish those ideas."
She wasn't the only faculty member impacted. She said one of the professors working in the lab next door to hers lost so much work that, as an untenured faculty member, he had little chance of recovering. He left the field of science altogether.
University President Sandra Packard released a statement in the March 23 issue of The Oakland Post, stating: "the extension of our regret and sympathy must go to those faculty members who have experienced the research losses. This is a significant loss for them personally and for the university community as a whole. Please accept my sincere regrets."
Packard's statement also thanked the first responders and campus community members who aided in relief efforts after the fire.
Hansen explained that the fire started because of a fume hood that held flammable chemicals. Due to a design error, there was a glass drying rack underneath it, which contained a heating element. She said the heating element had somehow been switched on, causing the fire.
Four days after the fire, then Vice President of Academic Affairs Gary Russi spoke about the damage at a University Senate meeting. The university had insurance with a $50,000 deductible. However, according to one Oakland Post article, only $5,000 of that would need to be paid out of pocket, thanks to past good-risk practices. 
Costs to repair Dodge Hall were estimated to be as high as $900,000, according to Paul Bissonette, then vice president of Finance and Administration.
Just prior to the fire breaking out, Professor Rasul Chaudhry had been conducting research in Dodge Hall on live HIV. His research was criticized and deemed too dangerous. By 1995, he was suspended from the university, but was later reinstated.
Hansen continued working at OU, as well. She had 17 years of her research funded following the fire, with no more grants coming from the NIH.
"This year, I went through March 14 without even thinking," she said. "That day's always made me depressed."