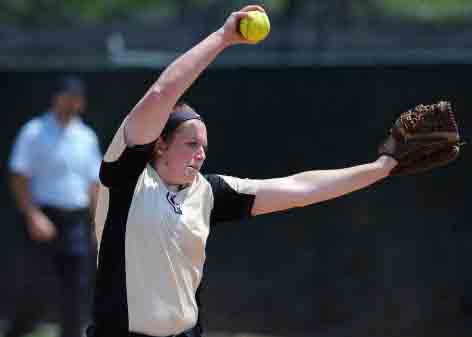 Jose Juarez
Injuries are common among athletes.  Many battle sprained ankles, concussions or ACL tears. However, the thought of a blood clot, especially in the brain, is not the first thing that comes to mind when athletes do not feel 100 percent.
Erin Kownacki, pitcher for Oakland University softball, is a rare case. In early October 2015, Kownacki found out that she had a massive blood clot in her brain that could have killed her. At one point during her stay in the hospital, Kownacki even lost feeling in the right side of her body and could not talk. This condition caused her to take a redshirt during her fourth year and miss the full 2016 softball season.
Blood thinners and medication got rid of the clot. After being released and allowed to play again in May 2016, Kownacki began practicing for her final season representing the Golden Grizzlies on the softball diamond.
"Just being around my teammates, for the most part, helped me get back into the routine of playing again," Kownacki said. "The biggest thing for me was coming back and being able to throw my pitches at least somewhat how I used to and be comfortable with it."
Over the summer, Kownacki had help from teammates to slowly ease herself into practice mode. Once the full team returned in the fall, much of the preparation for the season focused on strength and conditioning.
In the middle of February, the Black and Gold traveled to Florida for two early season tournaments.  The game against Boston University on Feb. 17 marked Kownacki's official return to the game, along with her first win of the season.
"Everything happens for a reason," Kownacki said. "I can't sit there and think 'Oh, why did this happen?' I have to think there has to be a reason that I'm here for a fifth year, so that's what drives me. I feel a lot better with how the first few games went. It felt good to get back out there. From September until now, all of the work we have all put in is coming together."
Along with her win against Boston University, Kownacki also picked up wins against the University of Massachusetts and Ball State while the team was in Florida. With her first two wins being done in complete-game fashion, Kownacki was named the Horizon League Pitcher of the Week on Feb. 20.
In another complete-game performance, Kownacki shut out Ball State. She also recorded her first career save in Oakland's game against Morgan State. This led to back-to-back Horizon League Pitcher of the Week titles on Feb. 27.
"It feels good to be named the Horizon League Pitcher of the Week," Kownacki said. "I was surprised both times, but especially the second week. I know there's still a lot that I need to work on. It feels good to know that I'm going in the right direction."
It's not common to see someone bounce back from the condition Kownacki was in just a little over a year ago, especially with what she has already done this season. Head coach Connie Miner often refers to Kownacki as her "miracle."
"I believe that it was a miracle, and a lot of other people feel the same way with how massive the blood clot was," Miner said. "For her to be 100 percent OK and to be back on the field at the highest level you can be at for Division I, it's amazing to me."
Kownacki is still not back to where she once was- she must prioritize working on her pitches and focusing on strength.
"[Kownacki] is maybe at 70 percent of what she can do, so that should be scary to our opponents that she just won back-to-back Horizon League Pitcher of the Week titles," Miner said. "There were a couple of games that she dominated, and there were some that she had to work through but still dominated. She is ready to throw against anyone."
As the Golden Grizzlies get deeper into the season, they will be turning to the upperclassmen on the team. With freshmen and sophomores making up two-thirds of the squad, experienced leadership is key to maintaining a solid foundation, especially as this year's team embarks on recreating the 2015 championship season.
"[Kownacki] has always been a leader in a quiet way, but I've seen her be a more vocal leader for us now," Miner said. "Every game she pitches, we're right in there. [2015] was a storybook season, and we're in a position where we can do that again. If we stay healthy and with the right approach under [Kownacki] and the other seniors' leadership, we'll be in a great position."
Seeing Kownacki go through this has been an eye-opening experience for all those around her.
"When you're young, you think you're invincible, and that's kind of scary," Miner said.  "If you've lost your priorities, this brings you back pretty fast. You need to appreciate every opportunity that you have because at any second it can change. We're just lucky everything went our way with [Kownacki]."