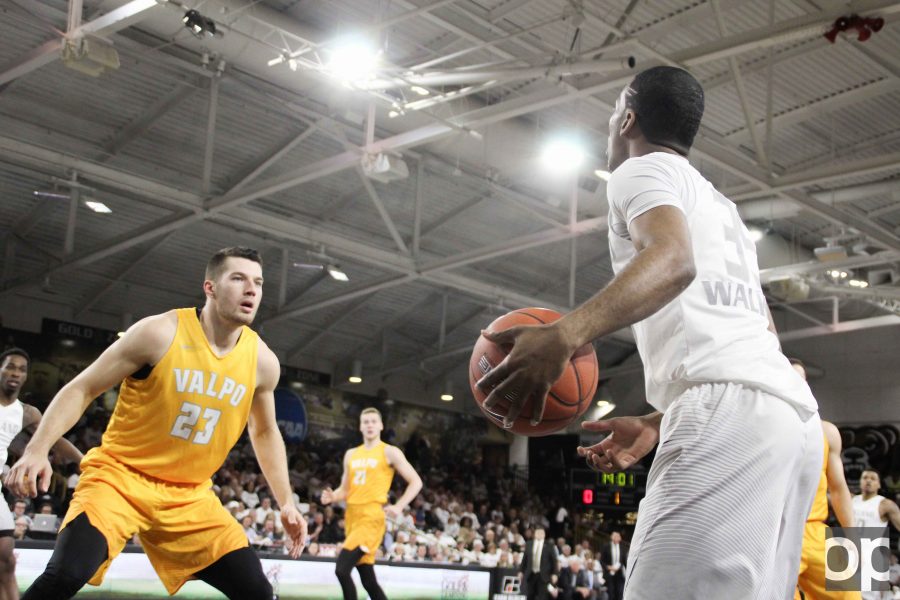 Nowshin Chowdhury
In his 1,000th game with Oakland men's basketball, head coach Greg Kampe coached the Golden Grizzlies to an 82-71 victory over the league-leading Valparaiso Crusaders on Friday, Feb. 17.
The win moves Oakland to 10-4 in the Horizon League, a game behind the now 11-3 Valparaiso team, with four games left to play in the 2017 season. Kampe and the team were feeling pretty good about themselves and where they sit after the game's end.
"Whatever it was that we were talking about those couple of weeks that we lost, I think we got it back," Kampe said in the postgame press conference. "That swagger. That belief in ourselves."
Kampe has repeatedly mentioned how much Oakland needed its swagger back since its loss to Detroit Mercy on Jan. 13 at home sent the team into a downward spiral. The Golden Grizzlies appear to have officially survived the mid-season funk and now sit in second place two weeks away from the opening of Motor City Madness.
A notable area of struggle for Oakland during its rut came from the 3-point line. There was no sign of that struggle tonight against the Crusaders. Oakland matched its performance at Detroit Mercy from the 3-point line, shooting 40 percent. The Golden Grizzlies went 8-for-20, with four 3-pointers coming from redshirt junior Nick Daniels.
"Daniels has been a big shot-maker for us during his career," Kampe said. "And he changed the game for us tonight. He went in there fearless and buried three out of four from the 3 at key, key times."
Daniels shot 4-for-6 from behind the arc and totaled 16 points, a season high for the guard.
Another prominent performance of the night came from Oakland's Martez Walker, who etched 23 points for Oakland, going 7-for-13 from the field and 2-for-7 from the 3.
"It was a blessing to be out there," Walker said. "I try my best to just go out there and play hard, every second, every time I'm out there."
Walker's play seemed to get under the skin of at least one Crusader during the game.
With 14:14 on the clock in the second half, Valparaiso's Trevonn Walker fell to the ground after being fouled by Sherron Dorsey-Walker. Lying on his back, Trevonn Walker kicked Martez Walker in the shin. After a review of the play by the officials, Trevonn Walker was ejected and sent to the locker room.
Both Martez Walker and Kampe minimized the dispute in the postgame press conference.
"It's the heat of the moment in the game," Martez Walker said. "He wanted to win. I wanted to win."
"It's a part of the game. It's Oakland-Valpo," Kampe said. "We hold nothing against Trevonn. He's a great kid."
Both team's big men had solid performances. Oakland's Brad Brechting matched his career high with 12 points, adding four rebounds, a block and a steal. Meanwhile, 6-foot-11 Valpo freshman Jaume Sorolla contributed 14 for the Crusaders, with nine rebounds and two blocks.
"We've got that two-headed, one defense, one offensive guy," Kampe said of the Brechting-Isaiah Brock combo. "With [Brechting] playing like that and [Brock] is such a defensive presence . . . that just makes us a better basketball team."
Valparaiso's most valuable player, Alec Peters, had 22 points on 18 attempts. Kampe was proud of his team's defensive efforts toward Peters, holding him to only 18 shots and sending him to the free-throw line to shoot only four times.
With these two teams sitting at the top of the league with four games to go, there's a lot of talk about the possibility of a Valpo-Oakland championship game. Kampe, however, isn't there yet.
"We got to get there," Kampe said. "To sit there in college basketball, in a conference tournament, and to think of anything other than one game at a time is a grave mistake."
As the regular season winds down, Oakland will return to the Blacktop at 3 p.m. on Sunday, Feb. 19 to take on University of Illinois-Chicago.