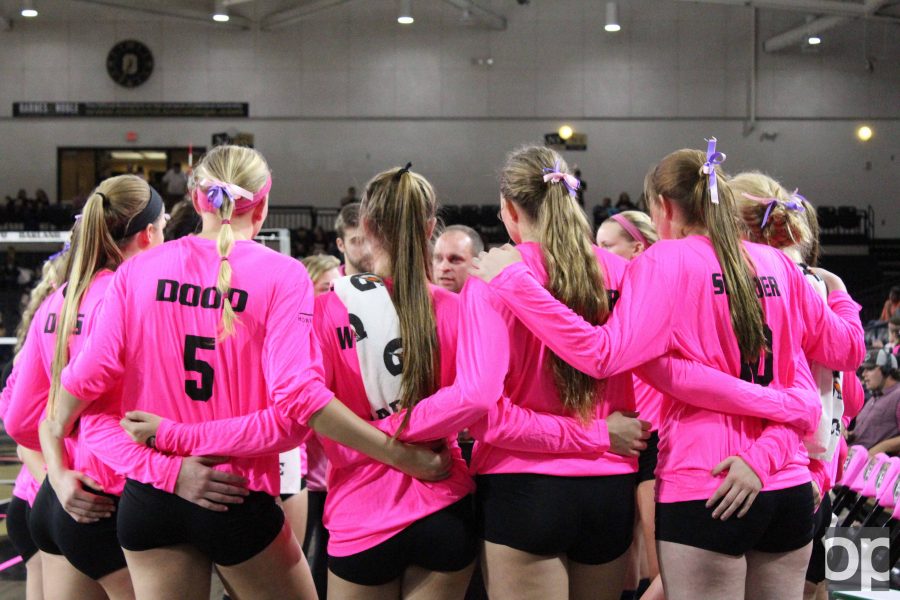 Elyse Gregory
It all started in seventh grade when Jessica Dood tried out for Grandville Middle School's volleyball team. Even though Dood hated passing the ball because it hurt her arms, she grew to love the sport and continued on to play for the Golden Grizzlies. Now that her final college volleyball season is over, Dood wants to continue to move forward with volleyball.
From Jan. 4-16, Dood travelled Europe to gain some professional volleyball exposure and possibly spark the interest of some European teams.
"It was really cool and really fun," Dood said. "It's a lot different than here, just like the whole volleyball game, how it's played, the different culture, and obviously the time zone too. That was weird to get used to."
Dood has had her sights set on a professional tour for while, but after Oakland head coach Rob Beam introduced her to Bring It Promotions LLC, a professional volleyball agency, she was able to execute the tour.
"In the sport of volleyball, Bring It Promotions is very well-known for running quality events," Beam said. "We've had other athletes from Oakland attend with Bring It Promotions, and they've had good experiences . . . so it seemed like a natural fit for her."
Since working with Dood for the past four years, Beam has seen a lot of improvement in her.
"We've seen skill improvement, like kind of refinement, in all the areas," Beam said. "I think she's good at just understanding the game and tactics and positional responsibilities and situational-like details. She's much better at that than she was four years ago, when she came in as a really raw, athletic freshman."
While on the tour, Dood travelled with other American volleyball players to play with teams in Austria, Slovenia and Italy. They played the professional teams once a day, while European coaches would come watch them play in-person or via livestream.
While the tour was mainly for professional exposure, there was a lot of time for sightseeing. The group got to see Salzburg, Austria, where "The Sound of Music" was filmed, and the Mauthausen-Gusen concentration camp near Linz, Austria.
"I really like Austria a lot," Dood said. "All those teams were really nice, and they seemed like they had a good understanding of each other."
Beam said he believes that Dood has a good chance of becoming a successful professional volleyball player if she continues to pursue playing.
"I think there was a high level of interest in her," Beam said. "If she chose to pursue it, she probably would be putting in a couple years, and I truly believe she can advance through the divisions to make a good living playing professional volleyball."
The coaches watched the players in order to see which would be a good fit for their teams. There were some coaches interested in Dood, but she will not find out if a team has an offer for her until after her graduation in April.